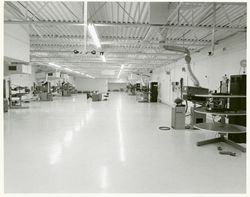 "Ms. Szczepaniak-Gillece's research into architect Benjamin Schlanger will shed some light on this overlooked designer whose work helped transition out of the Movie Palace era and into a modern look." Patrick Seymour, THS Archives Director
Elmhurst, IL (PRWEB) January 21, 2016
Theatre Historical Society of America welcomes this important research on theatre architecture and the impact of architecture on the audience. Ms. Szczpaniak-Gillece's book will bring attention to the work of Benjamin Schlanger, understudied American designer and theorist of modern theatrical architecture.
Schlanger was extremely well respected in film exhibition, cinema architecture and technology, and stage design; his accomplishments include being the first architect to obtain a fellowship from the Society of Motion Picture and Television Engineers (SMPTE), design work on the Sydney Opera House and Kennedy Center, service as Vice President of the United States Institute for Theatre Technology (USITT) in the 1960s, and, along with Abraham Geller, the receipt of a major award from the New York Municipal Arts Society in 1963 for his work in Cinema I & II.
In addition to these accolades, Schlanger wrote prolifically for the Better Theatres section of Motion Picture Herald, the leading publication for exhibition technology and architecture, as well as the journal of the SMPTE, Architectural Record, and multiple other media outlets. Schlanger, his modernized theaters, and those in keeping with his ideals owe as much, if not more, to ideals of cinephilia, perfected film viewing, bodily immobility, and modern aesthetics as to Depression-era economics.
In the 1910s and early 1920s, film was commonly exhibited in massive urban palaces replete with ornate decoration and excessive audience capacity, resulting in what Siegfried Kracauer described as the "cult of distraction." For many American theater owners in the Roaring Twenties, wondrous décor created an escapist pleasure that encouraged repeat business. Yet by the late 1920s, this approach, an aspect of what many exhibitors referred to as "showmanship," was questioned by calls for a modernized theatrical interior that invested less in elaborate surroundings and more in perfected optics and a better visual experience of the film." Jocelyn Szczpaniak-Gillece
The Thomas R. DuBuque Research Fellowship was created by the Theatre Historical Society of America in 2012 to honor the memory of past president and dedicated volunteer Dr. Thomas R. DuBuque. Dr. DuBuque had a lifelong interest in historic theatres and was a member of THS from 1979 until his death in 2011. Ms. Szczpaniak-Gillece's research will focus on special materials in the THS archives relating to Benjamin Schlanger and Frederick Kiesler along with blueprints and photographs that will help document modernized movie theaters.
ABOUT THEATRE HISTORICAL SOCIETY OF AMERICA: Founded by Ben Hall in 1969, the Theatre Historical Society of America (THS) celebrates, documents and promotes the architectural, cultural and social relevance of America's historic theatres. Through its preservation of the collections in the American Theatre Architecture Archive, its signature publication Marquee™ and Conclave Theatre Tour, THS increases awareness, appreciation and scholarly study of America's theatres. Learn more about historic theatres in the THS American Theatre Architecture Archives and on our website at historictheatres.org