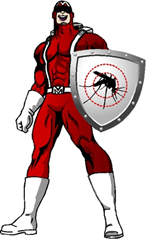 For thousands of customers nationwide, Mosquito Shield provides peace of mind during mosquito and tick season
(PRWEB) January 13, 2016
Mosquito Shield of West Michigan has signed on as a presenter at the Southwest Michigan Family Wellness Expo coming to the Kalamazoo County Expo Center in Kalamazoo, MI.
The event is scheduled for Saturday, Jan. 16 from 10 a.m. to 3 p.m.
Mosquito Shield was founded in 2001 to fill the need for an effective and affordable residential mosquito and tick treatment. The company developed Mosquito Protection Barrier™, a patent pending spray that rids properties of the existing mosquito population and builds a barrier around that property for a virtually mosquito-free environment. MPB includes FlexBlend, the industry's only intelligent spray-blend technology.
The continuous 10-17 day treatment cycle throughout the season strengthens the barrier, reducing the risk of mosquito and tick-borne illnesses while also providing a haven for outdoor living and entertaining.
For thousands of customers nationwide, Mosquito Shield provides peace of mind during mosquito and tick season. Mosquito Shield offers a 100% satisfaction guarantee and the highest quality customer service in the industry.
The West Michigan franchise was established in 2014 by area residents Chuck and Sue Barnes.
The Southwest Michigan Family Wellness Expo is a gathering of a wide variety of experts in the areas of health, holistic and homeopathic approaches, fitness; and staying well: both physically and mentally.
The Expo features speakers; demonstrations, plus new and proven health care products. Medical, fitness and holistic professionals will be there to personally answer your questions and concerns.
The Kalamazoo County Expo Center is located at 2900 Lake St. in Kalamazoo, MI. Admission to the event is free.
For more information, visit http://www.kzoofamilywellness.com.
To book mosquito control services through Mosquito Shield of West Michigan, contact Chuck and Sue Barnes at (269) 763-9248.