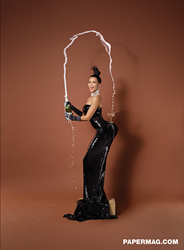 The important take away here is that the results are consistent and nearly 9 out of 10 patients are happy with their results.
Las Vegas, NV (PRWEB) January 18, 2016
The Aesthetic Surgery Journal published an article titled "Power-Assisted Gluteal Augmentation: A New Technique for Sculpting, Harvesting, and Transferring Fat" on September 15, 2015. Trevor Schmidt PA-C, the liposuction specialist and owner of MyShape Lipo discusses his extensive experience on the subject.
Schmidt has performed over 15,000 liposuction procedures and has pioneered new techniques to perform the fat transfer procedure exclusively under local anesthetic. This has completely eliminated the risk and cost of general anesthesia.
The study describes new techniques for the preparation of a tissue matrix at the recipient site by means of vibration and tunnelization. They believe that this can enhance the tissue competency and allow for larger volumes of fat to be transferred.
"They are essentially using a power assisted liposuction cannula to create more space for fat grafting," says Schmidt. "This is beneficial to break up connective tissue that may be inhibiting the expansion of the area. It should allow for a larger graft and larger enhancement."
The patient satisfaction following the procedure appear to be favorable with 86.3% of patients stating they were satisfied with the shape of their butt. 88.4% reported that they would recommend it to a friend and 84.2% reported an improved psychological well-being as a result of the procedure.
"I agree that their technique is beneficial, but I'm not sure that the quality of their results has anything to do with the use of their vibration and tunnelization," says Schmidt. "Tunneling likely helps to release tissue and creates more space, but I'm not convinced that the vibrations are necessary."
Schmidt's technique used at MyShape Lipo is different in a few crucial ways. All of their procedures are performed using local anesthesia, which completely eliminates general anesthesia. Since the patients are awake, they are able to get into optimal positions for treatment of various areas. It also reduces the cost of the procedure, while reducing the risk. Patients from MyShape Lipo tend to have a much shorter recovery and can get back to normal activity within 1-2 weeks.
From the study, it was believed that this new technique has decreased the surgical time to range from 60 to 120 minutes, which is a good time for this procedure. By shortening the time of the procedure, this can reduce the issue of surgeon fatigue and reduce side effects of general anesthesia.
"My procedure times have always been in the range of 60-90 minutes for this procedure and I believe it is more reliant on the individual surgeons technique and experience," says Schmidt. "I'm sure that the addition of power assist tools can make it easier for those that do not use them."
While this study is useful in educating surgeons about the use of power assist equipment and tunneling techniques, there are many limitations to this study that may take away from the results. They lacked a standardized assessment to collect data regarding patient satisfaction. The surveys were not completed anonymously, which likely affected the answers given.
"I'm happy to see others innovating and trying new techniques," says Schmidt. "There are many ways to get to the same results. The important take away here is that the results are consistent and nearly 9 out of 10 patients are happy with their outcome."
About MyShape Lipo
MyShape Lipo is a specialty clinic that focuses exclusively on liposuction and fat transfer. Trevor Schmidt PA-C, the owner and liposuction specialist has the experience of performing over 15,000 liposuction procedures on all shapes and sizes. All of their procedures are performed under local anesthesia. Their affordable rates and extensive experience have attracted nearly 70% of their patients from around the world. They offer complimentary consultations, so call now to schedule, 702-818-5476. View their photo gallery online at http://www.MyShapeLipo.com.