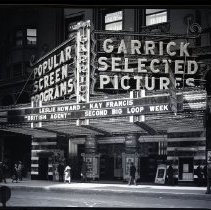 "The generous grant from the Gaylord and Dorothy Donnelley Foundation allowed us to digitize one of the jewels of our archives. We can now easily share beautiful images of these amazing theatres." Patrick Seymour, THS Archives Director
Elmhurst, IL (PRWEB) January 27, 2016
The Theatre Historical Society of America, home to the American Theatre Architecture Archives, is working to bring more of its collections online, increasing access by scholars, theatres, professionals and enthusiasts. The Chicago Architectural Photographing Co. (CAPC) was organized in 1885 to serve the demand for architectural photography in the bustling post-fire building boom. Many well-known architects used the services of the company such as Adler & Sullivan, Frank Lloyd Wright, Burnham & Root, etc. The firm survived in its original form until 1973, when the last two principals, Walter Kaszubowski and Paul Broderson, retired. Around that time, the main collection was offered up for sale. However, the principals would also occasionally sell groups of negatives to various organizations. It was during this time (early 1970s) that Theatre Historical Society acquired the theatre related negatives.
The CAPC collection focuses primarily on theatres in Illinois with additional negatives representing theatres in Indiana, Michigan, Minnesota, Missouri, Ohio, Wisconsin, New York, Pennsylvania, and Tennessee. It includes photographic images taken by the firm for architects and builders. The collection includes approximately 1,000 negatives mostly from the 1920s to 1940s of approximately 250 theatres. Funding from the Donnelley Foundation allowed over 1,000 negatives from the Chicago Architectural Photographing Co. Collection to be scanned, creating high quality digital master files. The master files allow images to be created for the online catalog and protects the negatives by minimizing handling of the collection.
THS is excited to share the CAPC collection with a wider audience through the online catalog of its American Theatre Architecture Archives. The grant from the Gaylord & Dorothy Donnelley Foundation also enabled THS to upload the CAPC collection to the Chicago Collections web portal, which was launched in October 2015. As member of the Chicago Collections Consortium, a group of archives and special collections around the Chicagoland area, THS is committed to bringing historical and archival material to interested members of the community. In the summer of 2015, work began on the consortium-wide search catalog, which gathers material from each institution into one common web portal. When the Chicago Consortium Collections launched publicly, it expanded member organizations' ability to disseminate materials like the CAPC collection. By making the CAPC collection available online, the Gaylord and Dorothy Donnelley Foundation grant helps THS more fully document America's historic theatres, encourages digital literacy, and promotes the use of digital archive resources. Follow this link to explore the CAPC collection online.
About Theatre Historical Society of America: Founded by Ben Hall in 1969, the Theatre Historical Society of America (THS) celebrates, documents and promotes the architectural, cultural and social relevance of America's historic theatres. Through its preservation of the collections in the American Theatre Architecture Archive, its signature publication Marquee™ and Conclave Theatre Tour, THS increases awareness, appreciation and scholarly study of America's theatres. Learn more about historic theatres in the THS American Theatre Architecture Archives and on our website at historictheatres.org