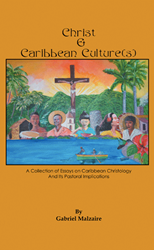 To see the maturation of a civilization, we need to view it on the physical, psychological, historical, socio-economic and cultural levels
ROSEAU, Dominica (PRWEB) January 14, 2016
How does a religion fit into the historical, social and future culture of a community, region or civilization?
Bishop Gabriel Malzaire was ordained a priest in 1985, and he has served as Bishop of the Diocese of Roseau in the Dominica since 2002. Malzaire studied in the United States, Italy and the West Indies and then became the first local Caribbean bishop in his diocese. This global education paired with a specific local focus motivated him to develop a personal, in-depth and informed perspective on faith and the community.
"We have to acknowledge who we are, grow into a deeper acceptance of what we have been, embrace what we are now, and chart the course for a more positive future," Malzaire said. "To see the maturation of a civilization, we need to view it on the physical, psychological, historical, socio-economic and cultural levels."
Malzaire examines the impact of religion on civilization in his new book "Christ & Caribbean Culture(s)." The collection of four essays explores different aspects of Catholicism in the Caribbean. Malzaire's writings cover topics including major concerns of the Caribbean church, how Caribbean Christians can develop a greater sense of self-worth and the history of the region as it relates to religion.
"It is my hope that this small collection will provide readers with insights into the Caribbean church's experience and theological issues with which we grapple, sometimes without realizing it," Malzaire said.
For more information, visit http://www.caribbeanchristology.com.
"Christ and Caribbean Culture(s): A Collection of Essays on Caribbean Christology and Its Pastoral Implications"
By: Gabriel Malzaire
ISBN: 9781504920032
Available in softcover, e-book
Available on Amazon, Barnes & Noble and AuthorHouse
About the author
Bishop Gabriel Malzaire has studied theology extensively and holds degrees from the University of the West Indies, Catholic Theological Union in Chicago and Pontifical Gregorian University in Rome, where he earned his doctorate in sacred theology. Malzaire has also written two other publications, "A Decade of Grace" and "Eucharist & the Poor." He resides in Roseau, Dominica.
# # #