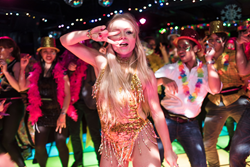 We like to show people the subversive side of science.
New York, NY (PRWEB) January 15, 2016
Guerilla Science, a creative agency with offices in New York and London, has received a $1.25 Million charitable grant from the Simons Foundation, whose mission is to advance the frontiers of research in mathematics and the basic sciences. Support for Guerilla Science is provided by the foundation's initiative to enhance the public's engagement with science and math.
The money will fund a series of programs around New York and the U.S. that bring science to adults in unconventional and informal ways. Guerilla Science has pioneered a unique style of public interaction by translating cutting-edge scientific research into avant garde performance art. The organization has previously opened up a popup intergalactic travel agency to provide space vacation consultations for the public, conducted a mass scientific experiment on Disco dancing, and blindfolded speed daters looking for romance to explore the neuroscience of attraction. The reality-altering experiences produced by Guerilla Science are designed to connect the public with new ways of understanding how science impacts our daily lives.
"We like to show people the subversive side of science," says Mark Rosin, a mathematician, professor at the Pratt Institute, and co-founder of Guerilla Science.
Over the three-year program, Guerilla Science will be ramping up its event schedule in the U.S., producing immersive science-inspired experiences in and around New York City and at music festivals across the U.S. in collaboration with its global network of scientists and artists. The group also plans to increase its digital offerings for online audiences. One such project will broaden opportunities for the public to interact with a custom-built musical instrument called the Fire Organ that visualizes sound through flame.
"The Simons Foundation is pleased to support Guerilla Science," says Boyana Konforti, director of the Simons Foundation's Education & Outreach division. "They have a special way of bringing science to unexpected places — and they do it in artful and compelling ways, creating unique experiences for people who might not otherwise be interested in science. We look forward to seeing what they come up with in the coming years, as they expand their programming in the U.S. and worldwide."
Since 2008, with its debut at the U.K. music festival Secret Garden Party, Guerilla Science has brought more than 60 different events to more than 50,000 people at festivals, underground bunkers, galleries, and urban spaces. Its programs explore a wide array of scientific fields from astronomy, neuroscience, and mathematics to microbiology, zoology, and environmental science.
To hear more about what Guerilla Science has coming up, including events, offers, collaboration opportunities and job announcements, join the mailing list or follow Guerilla Science on Facebook, Twitter and Instagram.
For further information, images and to arrange interviews please contact:
Olivia Koski
Phone: (347) 541-9107
Email: olivia(at)guerillascience.org
@oliviakoski
About Guerilla Science
Founded in 2008, Guerilla Science is dedicated to revolutionizing how people experience science by mixing it with art, music and play. We are committed to connecting people with science in new ways, and producing live experiences that entertain, inspire, challenge and amaze. Guerilla Science has produced work for The Smithsonian, Burning Man, The Barbican, The National Portrait Gallery, and the UK's largest festivals such as Glastonbury, Bestival, and the Secret Garden Party. Our work has been featured in The New Yorker, Wired, The Guardian, The Times, NPR, BBC Radio 4 and Getty Images.
http://guerillascience.org/
Funding is provided by The Simons Foundation's Education & Outreach programs, which seek to stimulate a deeper interest and understanding of science and mathematics among students, professionals and the interested public. Foundation outreach programs aim to connect outstanding scientists with the general public, communicating the excitement of science and providing opportunities for discourse on emerging or important scientific topics of our times.
https://www.simonsfoundation.org/