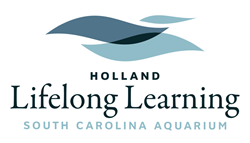 Charleston, S.C. (PRWEB) January 20, 2016
Join a legendary panel of conservation luminaries, including celebrated oceanographer Dr. Sylvia Earle, as they look at how aquariums, zoos and other conservation institutions help to increase our capacities for concern, empathy, affection and care for the whole community of life. "Why Do Zoos and Aquariums Matter?" is the finale event in the Holland Lifelong Learning series, and is made possible through a partnership with the Center for Humans and Nature. The event takes place Friday, Feb. 19, 2016 at 5:30 p.m.
The progressive series, which launched in September 2015, offers educational opportunities that spark inquiry and exploration for all age groups. Made possible through the generous contribution from Mary and Mason Holland to the Aquarium's Watershed Fund, the program serves the Charleston community with educational experiences that reflect the Aquarium's vision of connecting people with water, wildlife and wild places.
2016 Finale Event:
Why Do Zoos and Aquariums Matter?
Every year, an estimated one tenth of the world's population passes through the gates of zoos and aquariums. It has been shown that zoo and aquarium visits can enhance public understanding of wildlife and the conservation of the places animals live. Yet research suggests that an increasing number of people oppose the concept of captivity. The finale in the Holland Lifelong Learning series will bring together thought leaders who will explore the foundational elements of the ethics of conservation in order to foster a culture in which people care for both each other and nature. This urgent and meaningful conversation will aim to cultivate a more compassionate, and interconnected future for our natural world.
Participants include:

Dr. Sylvia Earle, Oceanographer, National Geographic Explorer-in-Residence, Author, Lecturer
Jeanne Gang, Architect and MacArthur Fellow, Founder of Studio Gang
Dr. Jeffrey Bonner, President, St. Louis Zoo
Scott Corwin, Founder, IMPACTS Research
Alejandro Grajal, Sr. Vice President for Conservation and Education, Chicago Zoological Society
Kevin Mills, President and CEO, South Carolina Aquarium
Julie Packard, Executive Director, Monterey Bay Aquarium
Event Details:
Holland Lifelong Learning Finale: Why Do Zoos and Aquariums Matter

Friday, Feb. 19, 2016
5:30-7 p.m.: Presentation at the American Theater, 446 King St.
7:30-9:30 p.m.: Dinner, William Aiken House, 456 King St.
Tickets to Presentation

$20, students; $30, Aquarium-members; $40, general public
Tickets to Dinner:

$65,Aquarium-members; $80, general public
Space is limited and reservations are required. Click here to reserve your tickets or call (843) 577-FISH (3474). For more information on the Holland Lifelong Learning series visit scaquarium.org/lifelonglearning.
For media inquiries contact Kate Dittloff, (843) 579-8660 or kdittloff(at)scaquarium(dot)org
About the South Carolina Aquarium:
The South Carolina Aquarium, Charleston's most visited attraction, features thousands of amazing aquatic animals from river otters and sharks to loggerhead turtles in more than 60 exhibits representing the rich biodiversity of South Carolina from the mountains to the sea. Dedicated to promoting education and conservation, the Aquarium also presents fabulous views of Charleston harbor and interactive exhibits and programs for visitors of all ages.
The South Carolina Aquarium, a 501(c) (3) not-for-profit organization and is open daily from 9 a.m. to 5 p.m. The Aquarium is closed Thanksgiving Day, half day Dec. 24 (open 9 a.m. to 1 p.m.) and Dec. 25. Admission prices are: Toddlers (2 and under) free; Youth (3-12) $17.95; Adults (13+) $24.95. The Aquarium plus the 4-D Theater experience is free for Toddlers, $22.95 for Children, $29.95 for Adults. The 4-D Theater experience only is $6.95 for Children and Adults, and free for Members. For more information call 843-720-1990 or visit scaquarium.org. Memberships are available by calling 843-577-FISH.
About the Watershed Fund:
In 2014, the South Carolina Aquarium launched the Watershed Fund, a campaign to scale and optimize our education and conservation programs that enrich our community. The goal of the Watershed Fund is to secure $25 million by 2020, enabling the Aquarium to reach nearly 70 percent more students statewide, to present world-class interactive exhibits like Shark Shallows and the Sea Turtle Hospital experience, and to launch a conservation program designed to inspire and educate the next generation of environmental stewards. For more information on the Watershed Fund visit scaquarium.org/watershed/.
###