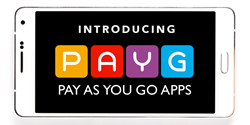 "I have sat across from countless tables listening to excellent ideas that died at inception due to the insurmountable costs and risk associated with simply getting started. At PAYG, we've changed all that." - Anshul Bagai, founder of PAYG Apps
(PRWEB) January 19, 2016
PAYG Apps, a new service model for custom iOS and Android app development, is set to disrupt the field's current business model by simplifying the financial leap into the app development process. An acronym representing its "pay-as-you-go" structure, PAYG Apps eliminates a key obstacle in getting started with app creation: high upfront cost. Instead, startups and small businesses can take advantage of lower monthly costs that are spread over 12 months to avoid breaking the bank.
Once development has begun, apps generally go live within 4-12 weeks. PAYG also offers continued support during the first year, including general maintenance, bug fixes and three update deployments. Through it all, the client retains full copyright.
"Too many companies dismiss the notion of creating an App for their small or medium size business because of all the upfront costs associated with bringing one to market," says Anshul Bagai, founder of PAYG Apps.
Included with the PAYG Apps service:

Small monthly payments starting from $99/month, spread out for a year
Go live in 4 –12 weeks
100% Custom Mobile App Development – no template or code reuse
You own the idea and the source code
3 upgrades available, one in each quarter
1 year of maintenance, changes and bug fixes included
15-day Money Back Guarantee – no questions asked
Five simple steps to get started:
Step 1: Discovery/Strategy
Step 2: Sign up
Step 3: Build
Step 4: Go Live
Step 5: Maintenance
With low upfront cost, world-class developers, and a full year of tech support, the one-stop shop allows virtually anyone the freedom and flexibility to bring their app ideas to fruition.
"A college kid created Facebook, a housewife invented the Miracle Mop. We would love to work with people who have great ideas they're passionate about."
About PAYG Apps:
PAYG Apps was founded in 2015 and has increasingly become a force in the highly competitive tech industry. They are a U.S.based company with headquarters in Woodland Hills, California. The concept was created by Anshul Bagai, founder of MY ZEAL IT Solutions, a California-based Custom Software Development Company. Full details can be found at PAYG Apps Website
About MY ZEAL IT Solutions:
MY ZEAL IT Solutions is a 6-year-old company offering Custom Web & Mobile App Development Services to its prospects and clients globally. More information can be found at MY ZEAL IT Website
Contact:
James Hale
818-539-7891