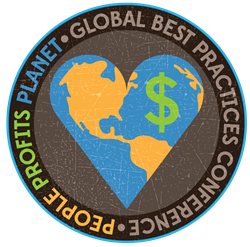 The Diamond Catalyst award is a testament to the hard work of our entire team. - Steve King, CEO | Dave & Buster's.
Dallas, Texas (PRWEB) January 19, 2016
Today, TDn2K™, (Transforming Data into Knowledge) parent company of People Report™, Black Box Intelligence™ and White Box Social Intelligence™ announced the winners of the 2016 Best Practices Awards at the 21st annual Global Best Practices Conference in Dallas, Texas.
These awards celebrate best in class restaurant organizations for workplace excellence in their specific segment of the restaurant industry. The Best Practices Awards are designed to acknowledge and honor consistently superior results among the hundred plus companies who are members of the People Report consortium.
"It has been our privilege since 1998, to study and celebrate the chain restaurant brands who are truly outperforming their peers in the workplace and the marketplace. This is a group of companies who are elevating the lives of their employees, customers and communities while setting the standards for the industry." Joni Thomas Doolin, TDn2K CEO, and founder, People Report.
The 2016 award winners are: Chili's Grill and Bar, Denny's, Jason's Deli, The Cheesecake Factory & White Castle. These companies were evaluated based on their results in hourly and management retention, compensation, diversity, year over year improvement, as well as initiatives in the areas of community involvement and sustainability. Best Practices Award nominees were also recognized for their outstanding results. 2016 nominees included: Raising Cane's, Wisconsin Hospitality Group d.b.a. Pizza Hut, Panera Bread, Zoe's Kitchen, Eat'n Park, Perkins, Ninety Nine Restaurants, Red Robin, BJ's Restaurants and Dave & Buster's.
In addition to these honors, TDn2K also presented the third annual Diamond Catalyst Award, the Heart of the Workplace Award and the 10th annual Workplace Legacy Award.
The Diamond Catalyst Award is a tribute to superior operational and workplace results. The winner of the 2016 award is Dave & Buster's. Eligible companies are members of both People Report and Black Box Intelligence and are evaluated based on sales and traffic performance as well as employment and people practices. The recipient of this award sets the standard for overall best in class business performance. The Diamond Catalyst was given for the first time in 2013 to The Cheesecake Factory, and presented to White Castle in 2015.
"The Diamond Catalyst award is a testament to the hard work of our entire team. We have expanded our store base to 80 stores, improved the quality of our operations, welcomed and served millions of guests and grown the D&B family to over 13,000 team members. It has been an exceptional year and a privilege to work with this team and company." said Steve King, CEO of the dining and entertainment brand. "Dave & Buster's is proud of having a rich, vibrant culture that it is a magnet for great leaders and awesome people. Our team brings the fun to life every day and we look forward to celebrating this accomplishment with them." added Margo Manning, Senior Vice President of Human Resources.
The Heart of the Workplace award is presented to the company that demonstrates significant commitment to and investment in their employees and communities. This year, it was awarded to Chad Houser & his team at Café Momentum.
The 2016 Workplace Legacy Award was presented to Sally Smith, CEO of Buffalo Wild Wings. The Workplace Legacy Award honors a leader in the restaurant industry who has clearly demonstrated a commitment to balancing people and profits. Their employees, organizations and communities have benefited from their leadership. The People Report Workplace Legacy Award was created and presented for the first time in 2005 to Joe Lee, Chairman of Darden Restaurants.
TDn2K™ (Transforming Data into Knowledge) is the parent company of People Report™, Black Box Intelligence™ and White Box Social Intelligence™. People Report provides service-sector human capital and workforce analytics for its members on a monthly basis. Black Box Intelligence provides weekly financial and market level data for the restaurant industry. White Box Social Intelligence delivers unparalleled consumer insights and reveals online brand health. Together they report on over 35,000 restaurant units, over 1.2 million employees and $57 billion in sales. They are also the producers of two leading restaurant industry conferences: Summer Brand Camp and the Global Best Practices Conference, each held annually in Dallas, Texas.