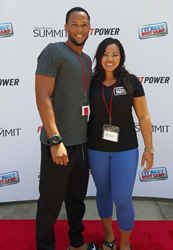 I naturally inserted myself in community service and enjoy helping people
Fountain Valley, Calif. (PRWEB) January 18, 2016
Zenia and Sam Joyner, the owners of Fountain Valley Fit Body Boot Camp, are named sponsors and co-hosts for a Superhero Fun Run taking place on February 6th, 2016 starting 8am at 16400 Brookhurst Street, Fountain Valley, CA, 92708 alongside the city of Fountain Valley and Fountain Valley Community Foundation. The event will be supporting charities of the participant's choice under the Fountain Valley Community Foundation.
Fit Body Boot Camp is the world's fastest growing and most popular indoor fitness boot camp brand, with hundreds of locations worldwide. The boot camp's unique brand of fitness combines individualized personal training from licensed professionals, clinically proven Afterburn workouts, and nutritional guidance to guarantee weight loss results.
Joyner says that she always knew she wanted to be a business owner:
"Having a long history in social services, I naturally inserted myself in community service and enjoy helping people," Zenia explained. "Starting my own fitness and health journey opened a new career path for my husband and I. We have built a strong community visibility and have built strong relationships with other community and business leaders. I also volunteer my time with the Fountain Valley Rotary Club, Fountain Valley Community Foundation and various local and community events."
The couple are also involved in the Chamber of Commerce and explain that they believe being involved is just as important as helping their clients on their fitness journeys. The two are sponsoring the event as a way to give back to the community and get everyone excited about fitness through fun activities. Other sponsors include Fountain Valley Sports Authority, Level 27 Media, FV Living Magazine, Seeden Photography, Yorktown & Warner Coin Laundry and Instabooth who will be doing a superhero themed photo booth.
The 5k Fun Run is superhero themed and encourages participants to dress up as their favorite hero as there will be a surprise for the best costume. There is also a planned post-run party taking place at Lamppost Pizza who will be giving discounts to any participants of the event as well as providing a Fit Body Boot Camp approved healthy menu.
Participants are encouraged to register before January 30th as the prices will go up after that date. On the 31st prices rise from $25 to $35 for participants 13 and up, and from $10 to $15 for anyone between the ages of 6-12. Online registration will be open until February 5th at 5pm, however walk-ins will be welcomed. All registration fee money will be donated to the non-profit of choice under the Fountain Valley Community Foundation.
About Fountain Valley Fit Body Boot Camp:
Fountain Valley Fit Body Boot Camp is a part of the Fit Body Boot Camp family of indoor fitness boot camps, whose global goal is to engage 20% of the world's population in a healthy and fit lifestyle by the year 2020. Fountain Valley Fit Body Boot Camp is owned and operated by Zenia and Sam Joyner. The Joyner's are committed to helping members of the Fountain Valley community set and accomplish their own health and fitness goals.
For more information about Fountain Valley Fit Body Boot Camp, please call: (714) 794-5224
Visit their website at: http://www.fitbodybootcamp.com/fountainvalleyfitnessbootcamp/
Or their Facebook page at: https://www.facebook.com/FitBodyBootCampFV/