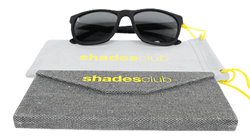 We design cool but classic shades and deliver them to members' doorsteps once a month, for as low as $15 a month
Orlando, FL (PRWEB) January 13, 2016
With nearly a quarter million dollars in pre-orders on Kickstarter, shadesclub™ has eclipsed its $20K goal and is racing down the stretch offering a last chance for backers to take advantage of early bird specials.
Garnering more than 2,000 total backers, the Kickstarter campaign officially closes at midnight on Saturday, January 16th leaving sunglass lovers with just a few days to get in on early bird specials at the shadesclub™ Kickstarter page.
Commenting on the popularity of shadesclub™, company co-founder Rich Amundson explains: "It was our business model, plain and simple. We design cool but classic shades and deliver them to members' doorsteps once a month, for as low as $15 a month."
Amundson and partner T.J. Eaton sought to offer consumers the opportunity to own a collection of designer shades that would sell for as much as $1,500 at the enormous mark-up prices offered by traditional eyewear retailers.
"Our backers recognized that this is the smartest way to discover and own the sunglasses collection they could never afford, but always wanted," said Eaton. "They get a pair for every outfit and occasion."
shadesclub™ sunglasses are designed in the USA and produced at established designer sunglass factories. Lenses come with mirrors, gradients, and signature combinations, creating crisp, clear views. Additional Features:

100% UVA/UVB Protection
Premium Quality Comfortable Frames
Polarized, REVO and CR-39 Lenses
Styles that Appeal to Both Men and Women
How Membership Works
Members fill out a style guide when joining. Designs are unisex in style and fit. Based on the style guide, shadesclub™ selects from a variety of looks, which are delivered in a signature bright yellow box on the first of every month. Membership is flexible and can be discontinued at any time. In a year's time members own 12 head-turning pairs of shades for the price of one designer pair.
About shadesclub™
shadesclub™ is located in Orlando, Florida. Rich Amundson is a graduate of the Kenan-Flagler Business School at the University of North Carolina at Chapel Hill. T.J. Eaton is a former lifeguard, college athlete, and graduate of the University of Delaware's Lerner School of Business. They've been designing sunglasses for more than 5 years for their brand, Dicks Cottons. shadesclub™ has established relationships with the most reputable factories in the eyewear industry. shadesclub™ is an all-inclusive solution for sunglasses, featuring each month's best styles, loaded with accessories and delivered right to your door.