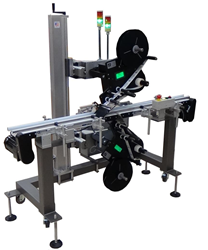 Fort Worth, Texas (PRWEB) January 26, 2016
ID Technology, powered by Pro Mach, announces the latest release in their LSI i-Series of Labeling Systems. The LSI Model 1800i Labeling System applies top and bottom labels at speeds up to 120 products per minute. Rugged yet simple and economical, the system features two ID Technology ST1000 Labeling Heads for 1"-5" wide labels at label lengths up to 10". This system is equipped with two conveyor belts, end to end, each measuring 8" wide x 3' long, and it can easily integrate into your existing production line.
The 1800i uses variable frequency AC drive controllers for the two conveyors. Operator control station has start, stop, emergency stop and power on indicator light. The system does not require factory air. For overprinting an ID Technology Compact 32D Thermal Transfer Overprinter can be added as an option. The LSI by ID Technology Model 1800i Labeling System is the new standard for operations that require a reliable top and bottom labeler with consistent labeling accuracy.
About ID Technology
ID Technology designs, manufactures and integrates custom identification systems and is recognized as a leading single-source provider for labeling, coding and marking equipment, expertise, service and supplies. ID Technology is based in Fort Worth, Texas and operates 17 regional offices across the United States and Canada. For more information or to locate one of the ID Technology nationwide sales and service centers, call 888.438.3242 or visit our website at http://www.idtechnology.com.
ID Technology is powered by Pro Mach, a Cincinnati, Ohio-based provider of integrated packaging and processing products and solutions for food, beverage, consumer goods, pharmaceutical, and other diverse companies. Through multiple brands, Pro Mach provides product packaging and processing equipment, PMMI certified training, installation, parts, and service in Bottling & Capping, Primary Packaging, Flexible Packaging, Material Handling, Identification & Tracking, and End of Line Packaging. For more information about Pro Mach visit http://www.ProMachInc.com.