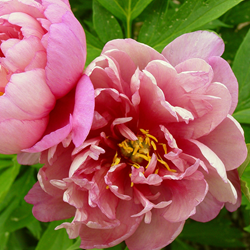 The "FOMO Flora" trend is driving demand for rare and unusual plants such as this Itoh peony.
Azusa, CA (PRWEB) January 20, 2016
The rise of the sharing economy, social media—driven demand for hot new plants, crisp geometric design, and some flirty romance all add up to a fresh take on gardening in 2016, according to Monrovia, the leading grower of premium container-grown perennials, shrubs, and ornamental plants in the U.S.
Among the top trends cited by Monrovia are the surge of "Grow to Give" organizations, renewed interest in old-fashioned flowering plants, a more toned-down color palette with a focus on calm and harmony, and upgrading outdoor lighting to enhance the garden experience and enjoy it after hours.
"In 2016, gardeners will wow the neighbors with plants that have supersized returns such as larger blooms, number of blooms, a tendency to bloom two or three times each year, intense fragrance or flavors, or bi or tri-color flowers. They'll continue to adapt to wild weather, smaller lots, changing lifestyles and less free time by planting landscapes that are easier to care for," says Jonathan Pedersen, spokesman at Monrovia.
"Mobile apps, the power of social media, and the sharing economy will continue to change the landscape of gardening," continues Pedersen. "These make everything from getting the scoop on the must-have plants to watering, lighting, and giving away excess bounty that much easier."
View the full report here.
For more information, hi-res images or to book an interview, contact Kate Karam (kkaram(at)monrovia.com) or (626) 513-0269.
About Monrovia: Founded in 1926, Monrovia is the leading grower of premium container-grown perennials, shrubs, and ornamental plants, with more than 3,600 varieties, including more than 250 exclusives. Monrovia's four environmentally responsible nurseries are located in Visalia, CA, Dayton, OR,