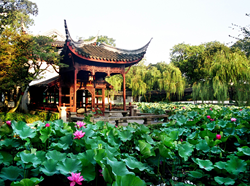 SUZHOU, CHINA (PRWEB UK) 14 January 2016
Today, Suzhou Tourism launches its new social media campaign – "A Virtual Look at Suzhou: Home to Culture, Canals, Cuisine and Craft" – to directly target European travelers, a move that also marks the debut of the destination's Instagram and YouTube accounts. Utilizing core engagement tactics over the next five months, Suzhou Tourism will implement an overall social media strategy that includes an online sweepstakes, monthly giveaways, content creation, consumer engagement, and influencer marketing, with a goal of increasing visibility and awareness for this emerging Chinese city among various digital and social media platforms, specifically its website, TravelToSuzhou.com, Instagram, YouTube, Facebook, and Twitter.
As an increasingly popular destination for European travelers, Suzhou offers a familiar feel as the city is deeply rooted in heritage and is one of the oldest cities in the Yangtze Basin dating back more than 2,500 years. The artistic synergies and mutual appreciation for culture between China and Europe run deep, as I.M. Pei, a Suzhou native and world famous architect, designed both the Suzhou Museum and the Louvre Pyramid. With its narrow streets and winding waterways, Suzhou truly lives up to its nickname as the "Venice of China." The city is continually expanding its infrastructure, including four new hotels opening within the past six months. In addition, its closest international airport, Pudong International Airport (PVG), has received an increase in flights from Europe by airlines such as Air China, Alitalia, and Finnair, providing seamless access to the city.
Designed to keep consumers informed on the destination's unique culture, cuisine, and heritage, this this campaign builds off an initial digital partnership with the BBC, which took place last year and resulted in sponsored content by the news organization and a dedicated microsite for European travelers.
About Suzhou
Suzhou, the "Venice of China," is known for its elegant stone bridges, canals, flowing water, and noteworthy architecture. Located in the center of the Yangtze River Delta, approximately 60 miles west of Shanghai, Suzhou is one of the oldest cities in the Yangtze Basin dating back more than 2,500 years. The city boasts the beautifully manicured Classical Gardens of Suzhou, nine of which have been designated a UNESCO World Heritage Site. Each year, millions of tourists travel to Suzhou to experience the destination's more than 400 attractions, ranging from pagodas and temples to historical districts and world-class museums. As the largest industrial city in China, Suzhou is home to Suzhou Industrial Park (SIP), which boasts five-star hotels, the iconic Lake Jinji, and Asia's largest Ferris Wheel. Travel to Suzhou is easily accessible via three convenient area airports with non-stop flights from North America: Shanghai Hongqiao International Airport (SHA) offers bullet train service to Suzhou, which is approximately a 50-mile, 30-minute trip; Pudong International Airport (PVG) is approximately 65 miles from Suzhou, an hour and half drive; and Sunan Shuofang International Airport (WUX) is approximately 14 miles from Suzhou, a 30-minute drive.
For more information on Suzhou please visit http://www.TravelToSuzhou.com, follow us on Instagram @visitsuzhou, Twitter @suzhouvisit and like us on Facebook at Visit Suzhou.