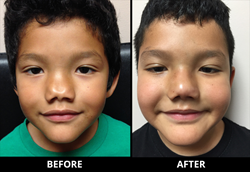 "I am happy to see that he is a confident young boy again," said Dr. Batniji
Beverly Hills, CA (PRWEB) January 18, 2016
Renowned facial plastic surgeon Dr. Rami K. Batniji performed a reconstructive rhinoplasty procedure on a young boy with congenital nasal deformity - at no cost.
When a seven-year-old boy with a congenital nasal deformity first walked into Dr. Batniji's office in Beverly Hills, he was quiet, reserved and lacking in confidence. He was accompanied by his mother, who was worried about her son's behavior. After school he became more aware of his physical appearance, which drastically altered his self-esteem.
Worried, his mother suggested consultation with Dr. Batniji. After reviewing the boy's nasal deformity, Dr. Batniji offered to reconstruct the boy's nose – free of charge. He felt compelled to help a young boy have a chance at a fulfilling childhood. Known for his skill and expertise, Dr. Batniji is equally recognized for helping individuals affected by trauma or serious illness feels comfortable in their own skin again.
After careful deliberation and counsel from the boy's family and friends, they decided to move forward with the life changing surgery. Dr. Batniji reconstructed the bridge of the boy's nose using cartilage from the ear to provide added structural support. When the procedure was complete, the boy's nose had a flawless appearance.
Nowadays, his mother has noticed a significant improvement in his confidence level. He is more outgoing, talkative, and has several friends at school – all the characteristics of happy child. At subsequent appointments, Dr. Batniji was delighted to see the positive changes in the boy's behavior. This spark of positivity in his patients reminds him of how much of an impact his skills and experience can have on an individual's life.
Dr. Batniji became interested in the field of medicine as a child. He gravitated towards facial plastic surgery while attending college because it combined his love of medicine and art, and he knew it would allow him to utilize his keen attention to detail. After completing his undergraduate studies at Williams College, he received his Doctorate from Albany Medical College.
As a facial plastic surgeon, Dr. Batniji performs a number of surgeries. His most frequently performed procedures are rhinoplasty, facelift, blepharoplasty, necklift and revision rhinoplasty. He also performs a number of reconstructive procedures, such as facial fracture repairs, laceration repairs and reconstruction after skin cancer. Dr. Batniji feels that facial reconstruction is a very important component of plastic surgery, and he takes pride in his ability to help people recover from trauma, sickness or congenital deformities. He feels it is his duty to give back to the community when opportunities arise.
Dr. Batniji is a double board certified plastic surgeon who has received certification from the American Board of Otolaryngology and the American Board of Facial Plastic and Reconstructive Surgery. He is located in Beverly Hills and Newport Beach, CA. His practices are dedicated to facial procedures.
Contact:
Batniji Facial Plastic Surgery
361 Hospital Road, Suite #329
Newport Beach, CA 92663
949-650-8882
http://www.drbatniji.com/