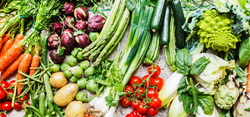 Eat a Rainbow every day and feel the Rainbow of your life become more colorful!
Sedona, AZ (PRWEB) January 15, 2016
SpiritQuest Sedona Retreats, located in Arizona, offers Health & Wellness Retreats. SpiritQuest's Healthy Living offerings will kick-start a healthy lifestyle in 2016. The holistic mind, body, and spirit approach enables participants to achieve goals and feel great in 2016 and beyond. Whether the intention is to cleanse and renew, lose weight, improve digestion and overall health, heal emotional wounds, release unhealthy patterns/relationships SpiritQuest's holistic approach brings health and wellness to clients in beautiful Sedona. Participants can now experience total body cleansing with HealthForce green drinks along with wellness sessions and spa/detox. Elements may also be combined for a completely customized experience. Nutritional consultation, colon hydrotherapy, yoga, meditation, energy and body treatments are among the healing and wellness sessions offered. People interested in participating in a SpiritQuest Health and Wellness retreat are encouraged to explore the website then call 928-282-2509 for scheduling.
Valentine's Day February 14 brings many couples to Sedona, as well as individuals wanting to love themselves more and open to love in their lives. SpiritQuest specializes in Couples Retreats, where couples can focus on relationship dynamics, deepening intimacy, and also provide the setting and opportunity for renewed connection and deeper intimacy. Improve communication skills, develop self-awareness, deepen connection with self and each other, establish healthy boundaries, have fun while developing relationship skills. Participants who seek more advanced relationships skills or deeper commitment, also people at a crossroad in their life or relationship, as well as those needing invigoration can all benefit from a SpiritQuest Couples retreat in Sedona, AZ.
For individuals, the Women's Retreat or Girl's Weekend Getaway may be perfect for some Valentine self-care or female bonding experience. Self-improvement and relaxation are the emphasis, as well as healing past emotional wounds and tapping into the divine feminine. Experience land journeys and the vortex energy of Sedona, get a color or spiritual guidance reading, then restore body, mind, and spirit with a personalized body treatment. Women's and Girl's Getaway retreats may be scheduled anytime during the year.
The personal Healing Retreat is often requested due to its holistic mind, body and spiritual approach for personal transformation and self-development. The Healing retreat is ideal for those suffering from stress, anxiety, or grief, as well as people recovering from a recent divorce or break-up, as well as those who feel lost or broken-hearted. Healing techniques such as reiki, chakra balancing, emotional clearing, meditation and yoga may be employed to help participants move through their pain and suffering to gain wisdom in order to move forward with positive attitude and balance. Personal Healing retreats, as well as any private customized retreat, may be scheduled any time during the year.