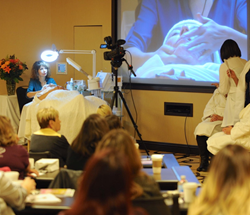 All new two day workshop on Plasma Fillers, PRP and supportive skin care procedures will be held in downtown Chicago February 20th & February 21st.
Chicago, IL (PRWEB) January 21, 2016
Learn how to offer natural alternatives to artificial fillers with filler gel made from the patient's own blood plasma, as well as supportive holistic skin care protocols to enhance and prolong the results of PRP and plasma fillers.
Physicians will learn how to:

Create individual anti-aging, holistic protocols for their patients.
Use PRP for aesthetics & other health benefits.
Create plasma gel from their patient's plasma and inject it into the face for immediate results.
Introduce a holistic approach to their medical practice.
Estheticians will learn:
How to prepare the skin for PRP, as well as how to administer post treatment skincare protocols to enhance and prolong results.
Different ways to support collagen regeneration, including the use of micro- needling.
Skin rejuvenating phyto-therapy.
How to bring a holistic approach into their skin care practice.
Dr. Andrey Lutskovsky will show physicians how FDA approved Platelet Rich Plasma therapy (also known as the "Vampire Facelift") and gel made from the patient's plasma, can safely mitigate wrinkles and tissue damage without the use of synthetic facial fillers.
Dr. Andrey Lutskovsky, of the American Regenerative Clinic, specializes in a number of regenerative medical procedures, including Prolotherapy, PRP (Platelet Rich Plasma), Stem Cell Therapy and Neural Prolotherapy. He has two medical degrees and has been practicing Regenerative Medicine since 2009. After working as a surgeon in the Ukraine and moving to the United States, he earned his second medical degree (DO) from the New York College of Osteopathy Medicine. He is an active member of the American Osteopathic Association of Prolotherapy Regenerative Medicine, the American Osteopathic Association, and the Michigan Osteopathic Association
Elina Fedotova will demonstrate how to prepare the skin for PRP treatments. She will also share post treatment skin care protocols for optimum results.
Elina Fedotova is an award winning aesthetician, cosmetic chemist, the chief formulator of Elina Organics and the President of the Association of Holistic Skin Care Practitioners. She frequently contributes educational articles to skin care magazines. Her edible products and skin care expertise have been featured on Good Morning America Live!, Chicago's ABC 7, NBC 5, Fox 32, CLTV and WGN.
Where: Elina Organics Advanced Skin Care Spa 100 E. Walton St. Suite 600E (6th floor) Chicago, IL 60611 (close to the corner of Michigan Ave. and Walton St.),
When: February 20th & 21st
For more information, and to register, please call 877.384.8300, or email elina(at)elinaorganics(dot)com.