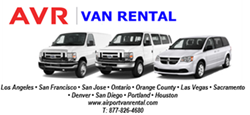 "Renting a van with Airport Van Rental has never been easier, especially for those needing wheelchair/scooter accessible vehicles."
Los Angeles, CA (PRWEB) January 14, 2016
As the holidays appear in the rear view window, spring and summer travel planning begins. Many travelers don't know how easy and affordable it is to rent a van instead of a car to accommodate large groups. In addition, Airport Van Rental (AVR) has wheelchair/scooter accessible vans for groups requiring that. AVR has over 14 convenient locations and their wheelchair accessible vans are an alternative to non-emergency medical transportation and as interim vehicles for drivers with temporary disabilities.
The following are some facts about AVR:

Vans can be used for large families, church groups, sports teams or groups attending music festivals
A wheelchair accessible van can be used for leisure, non-emergency medical transportation or for elderly group transportation
A wheelchair accessible van can be rented with a standard Class C license
Licensed drivers from 21 years old can rent a van from AVR
AVR is driven to provide quality service to serve the customer better and can assist with the day to day challenges of wheelchair travel
AVR provides the most premier late model adaptive vehicles with all wheelchair accessible features that customers need for safe, accessible travel
AVR provides a low-cost solution for accessible transportation needs
Founded in 2007, Airport Van Rental (http://www.airportvanrental.com) was the first dedicated van rental company and now has 14 locations and over 2,000 vans. Airport Van Rental is a family-owned company that is dedicated to providing the best service, the highest quality large capacity vehicles and the lowest prices. AVR is the anywhere, anytime van rental. Travel on!