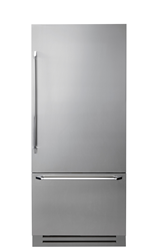 "The Dacor products become luxury essentials in the lives of Vegas's high-profile homeowners and include features that manifest sophistication, as well as functionality, in each kitchen design," said Dacor President and CEO Chuck Huebner
LOS ANGELES, CA (PRWEB) January 14, 2016
Dacor®, a leading manufacturer of ultra-premium kitchen appliances, announces that its products have been selected for four more penthouse suites designed and built by Pedram Rahimi at the Residences at Mandarin Oriental, Las Vegas. The permanent penthouse suites at the Forbes Five Star Award-winning hotel incorporate products that offer both luxury and functionality to reflect the affluent lifestyle of the Mandarin Oriental residents. The exclusive residential penthouses have become a nexus of high-profile homeowners and celebrated designers and showcase some of the most sought-after brands in the world—forever changing the luxury design landscape in a city notorious for highly-saturated ornamentation.
"The penthouse suites are a 'living design center,' meaning that they feature the latest in products and technology, yet are designed for the esteemed residents to enjoy in their everyday lives," said Dacor President and CEO Chuck Huebner. "The Dacor products become luxury essentials in the lives of Vegas's high-profile homeowners and include features that manifest sophistication, as well as functionality, in each kitchen design."
TWEET THIS: "Living design center" suites at @MO_LASVEGAS feature @DacorKitchen luxury appliances. bit.ly/22LAChS #DacorKitchen #KBISatMandarin
"The opportunity to partner with high-profile designer Pedram Rahimi on the Mandarin Oriental project is a testament to the products we manufacture," said Huebner. "Dacor is now featured in more than nine suites and this partnership highlights our ongoing commitment to providing exceptional products that add a signature touch to the kitchen."
The permanent residences of the lavish hotel feature Dacor's award-winning Discovery iQ™ range and the Discovery® 36-inch Fully Integrated Refrigerator. The Discovery iQ range is the world's first range to feature an integrated, wirelessly-connected tablet and proprietary technology, which makes it possible for home chefs to control the range via any smart phone or tablet. The Discovery 36-inch Fully Integrated Refrigerator features a patented FlushFit™ hinge system that allows seamless, built-in installation for the modern penthouse designs. The new hinge system also ensures balanced movement, stability and flush installation of custom panels with nearly zero clearance of the adjacent cabinets required. In addition to the Discovery iQ line of ranges and Fully Integrated Refrigerator, the Renaissance® Integrated Dishwasher and award-winning Discovery WineStation® were also selected in the design for a number of the suites.
"Within these multimillion-dollar suites, I designed an exceptional space for my clients with a focus on modernity and style," said Rahimi. "I hand-selected Dacor appliances for their seamless integration into the kitchen design and the premium cooking experience that Dacor products offer."
The Mandarin Oriental penthouses featuring Dacor appliances will be toured by industry professionals January 18-21 during the most anticipated international event showcasing home and building products, Design & Construction Week 2016.
For a tour of these exclusive suites, please contact Debi Hammond at debi(at)merlotmarketing(dot)com
# # #
About Dacor
Founded in 1965, Dacor is a leading manufacturer of ultra-premium kitchen appliances. Designed and built in California, Dacor's cooking appliances integrate function and technology to create high-performing, intuitive products that reflect the lifestyle and needs of the passionate cook. Dacor's full-suite of award-winning appliances include ranges, cooktops, wall ovens, refrigeration, ventilation and wine preservation. Family-owned for more than 50 years, the company is responsible for many of the innovations that have improved the way people cook in the modern kitchen. http://www.dacor.com
About The Residences at Mandarin Oriental
Living at Mandarin Oriental gives new definition to luxury living with daily pampering and attention from their dedicated team of residential colleagues. Owners of the private homes have exclusive access to Mandarin Oriental's luxury hotel experience just moments away. With more Michelin-starred restaurants than any other hotel group in the world, renowned holistic spas and distinctive design, Mandarin Oriental provides residents with amenities that complement their lifestyle. http://www.mandarinoriental.com/residences