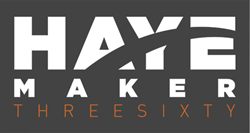 IM360 will broadcast a live, multi-camera, 360° video production of the boxing match between David "Hayemaker" Haye and Mark "The Dominator" di Mori
Los Angeles, CA (PRWEB) January 14, 2016
IM360, the leader in immersive and interactive content, has entered into an agreement with former heavyweight champion David Haye to produce the first-ever live boxing match in virtual reality featuring David Haye in partnership with Salter Brothers Entertainment. IM360 will broadcast a live, multi-camera, 360° video production of the boxing match between David "Hayemaker" Haye and Mark "The Dominator" di Mori at the O2 Arena in London, England on Saturday, January 16, 2016 at 9:00pm GMT
The match will be viewable on Hayemaker 360, a VR app custom-built by IM360, available on Android smartphones and tablets worldwide (except France), or on the Hayemaker 360 website. For more information about Hayemaker 360 or to download the free app, visit im360.com/HAYE.
In addition to the live 360° broadcast, Hayemaker 360 will host a wide range of exclusive virtual reality content about David Haye, giving sports fans a look at his workouts and everyday life. The app was created through a partnership with Salter Brothers Entertainment.
"We're proud to be able to bring true live virtual reality to market, providing sports fans a level of entertainment never experienced," said Richard Ngo-Tran, Vice President of Marketing for IM360. "With this first-ever live VR boxing match, we continue to push the boundaries of virtual reality as it enters the world of mainstream sports entertainment."
"Virtual reality technologies and immersive experiences are at the heart of this next wave of digital evolution. As a company, we are dedicated to creating new ways of making live sports and entertainment more exciting and engaging," said Andrew Salter, Co-CEO of Salter Brothers Entertainment. Simon Salter, Co-CEO of Salter Brothers Entertainment added, "To be the very first to bring live VR and 360 to boxing, together with our client David Haye and IM360 this Saturday at O2 Arena is truly exciting."
Boxer David Haye commented, "I'm fascinated by new emerging technologies, and am constantly looking to embrace the digital world in order to connect with my fans. With this in mind, I'm thrilled to bring immersive VR technology to big time boxing -- allowing the public to stand alongside me in the ring, letting them see what I see and experience every punch."
Download Hayemaker 360 and learn more at im360.com/HAYE.
About IM360
IM360 is the foremost provider of immersive and interactive content solutions. A joint venture announced in April 2015, IM360 unites Digital Domain, an Academy Award®-winning digital production studio, and Immersive Media, the leading provider of patented 360° immersive technology. Collectively, the studios aim to further the role of immersive video and virtual reality programming across advertising, television, film, gaming and situational awareness. From cinematic VFX to 360 video, virtual humans to virtual reality, IM360 has the ability to develop and produce what creative minds can imagine.
About Salter Brothers Entertainment
Salter Brothers Entertainment is an entertainment, media and marketing company founded by British brothers Simon and Andrew Salter, with ventures integrating music, television, sport, technology and philanthropy. Guided by the vision of the brothers, Salter Brothers Entertainment combines IP, an extensive relationship network, the ability to engage global audiences and innovative strategies to develop and build global branded entertainment properties, talent brands and consumer products for the digital age. Over the last year The Salter Brothers have won multiple awards including Cannes Lions, Broadcast Magazine and The Drum for their creation of the testicular cancer awareness campaign "Feeling Nuts" and "Feeling Nuts Comedy Night" TV Show on Channel 4, which was credited as one of largest social movements of this generation, reaching over 800 million people in 159 countries.
About David Haye
David Haye is a British professional boxer and two-time former world champion. Widely recognized as one of the best boxers of his generation, he is the first British boxer to reach the final of the World Amateur Boxing Championships, where he won a silver medal in 2001. As a professional he became the first British boxer to become a unified cruiserweight world champion in 2008, winning three out of the four major world titles, as well as The Ring magazine title. He then moved up to heavyweight and became the WBA heavyweight champion of the world in 2009 after defeating Nikolai Valuev, who had a world record 11 inches and 7 stone advantage on Haye. Along with Evander Holyfield, Haye is one of only two boxers to have unified the cruiserweight world titles and become a heavyweight world champion. Haye is an unorthodox style of fighter who relies heavily on his speed and athleticism, and also carries exceptional punching power earning him the nickname "The Hayemaker". He boasts an 86% knockout ratio and has defeated six world champions in Arthur Williams, Giacobbe Fragomeni, Jean-Marc Mormeck, Enzo Maccarinelli, Nikolai Valuev and John Ruiz, as well as top contenders such as Monte Barrett, Audley Harrison and Dereck Chisora.
When discussing his return, Haye said: "I'm so happy to be able to step back through the ropes and back into the ring, where I do my best work. It's been a long three and a half years out, with many ups and downs, but 'The Hayemaker' is finally back, and ready to do what I do best. I've a new team, new look and new inspiration to achieve my goals. I've always set the bar high in my career, and I will continue to do so. Please sit back and get ready for another fun-fuelled heavyweight campaign to the very top."