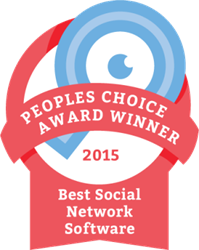 ..the winner, but a huge margin is SocialEngine...
Boulder, Colo. (PRWEB) January 15, 2016
Leading custom social network and online community platform, SocialEngine, today announced it has been awarded 2015's Best Social Network Software in CMS Critic's People's Choice Award.
"It is an honor to be nominated by our customers and partners, but winning reaffirms the depth of support and excitement for SocialEngine," states James Clark, co-president and CEO of SocialEngine. "There are tremendous opportunities for powerful and exciting interest-based social network communities where individuals want to explore and connect with those who share their own passions and SocialEngine is the best platform to build those communities."
SocialEngine was one of three finalist in the competition and according to the CMS Critic announcement, "The contenders this year were SocialEngine, MooSocial & Boonex Dolphin but the winner, by a huge margin is SocialEngine."
"We've worked extremely hard over the past year to bring SocialEngine into a new era," states Jason Cormier, co-president and CMO of SocialEngine. "In 2016 we are launching an entirely new developer-focused website and customer-focused marketplace. This new site gives us the ability to accelerate our product development for SocialEngine PHP and SocialEngine Cloud while providing better revenue opportunities for our certified developers."
About SocialEngine
SocialEngine, http://www.socialengine.com, is a leading provider of software that helps people and brands build vibrant online custom social networks and communities. Thousands of social websites are powered by the SocialEngine platform, and millions of end-users enjoy these sites everyday.
Follow SocialEngine:
Twitter.com/SocialEngine
Facebook.com/SocialEngine