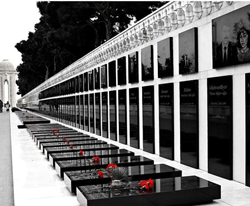 The declaration of a State of Emergency in Baku was the biggest mistake of my political career.
London, UK (PRWEB UK) 20 January 2016
The date of 20 January is written in blood for Azerbaijanis, marking one of the darkest days in modern Azerbaijani history. On that date in 1990, Soviet troops, at the command of Mikhail Gorbachev, Soviet President, and Dmitry Yazov, Soviet Defence Minister, violently suppressed an uprising by the Baku population against Soviet rule. According to official estimates, between 131 and 170 civilians were killed, around 800 were injured, and five went missing, presumed killed. The date is commemorated as a day of national mourning in Azerbaijan, with the population of Baku placing carnations on the graves of the slaughtered in Martyrs' Lane.
The uprising followed the first attempts to rebel against Soviet oppression in December 1989, when Azerbaijanis living near Iran tore down border fences and demanded closer ties with their countrymen living in Iran. The local authorities in Jalilabad surrendered to rioters, and the administration was transferred to the Azerbaijani Popular Front, followed by that of the Lankaran administration. The Popular Front soon gained de facto control of numerous Azerbaijani regions.
Following the declaration of a State of Emergency in other parts of Azerbaijan, the Popular Front ordered supporters to block the main access routes to Baku. As a million Bakuvians took to the streets, the Soviet authorities then moved to military command posts on the outskirts of the city. On 20 January 1990, a State of Emergency was declared in Baku. The television station was demolished, and all communications lines were severed by Soviet special forces, making way for 26,000 Soviet troops to smash the barricades and enter Baku. For three days, the Soviets fired on the protestors, and almost the entire population came to the streets to bury the dead on 22 January. The State of Emergency continued for four months.
Human Rights Watch wrote: "The violence used by the Soviet Army on the night of 19–20 January was so out of proportion to the resistance offered by Azerbaijanis as to constitute an exercise in collective punishment. Since Soviet officials have stated publicly that the purpose of the intervention of Soviet troops was to prevent the ouster of the Communist-dominated government of the Republic of Azerbaijan by the nationalist-minded, noncommunist opposition, the punishment inflicted on Baku by Soviet soldiers may have been intended as a warning to nationalists, not only in Azerbaijan, but in the other Republics of the Soviet Union."
Mikhail Gorbachev – who oversaw the dismantling of the Soviet Union – has admitted his error of judgement several times. In 1995, he wrote: "The declaration of a State of Emergency in Baku was the biggest mistake of my political career."
Last year, he seemed reflective: "I am reluctant to give any comments about the events of January 1990, because it is difficult to speak about that night without a lot of remembering, analysis and deep thoughts."