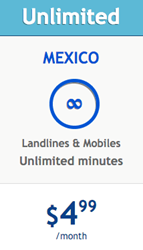 China Unlimited can be bought for $5.28/month, while Canada Unlimited and Mexico Unlimited cost only $4.99/month.
Atlanta, Georgia (PRWEB) January 16, 2016
KeepCalling.com has great news for everyone making frequent calls to China, Canada, and Mexico. Starting today, customers can make not only frequent calls to these countries, but also unlimited ones, as KeepCalling.com introduces unlimited Monthly Plans for all these destinations.
All three new Monthly Plans can be used to make calls to both landlines and mobiles in these countries. China Unlimited can be bought for $5.28/month, while Canada Unlimited and Mexico Unlimited cost only $4.99/month.
More good news is that Monthly Plans can now be renewed anytime. Since many customers wished to top up their plans whenever they ran out of minutes instead of waiting for 30 days for a new batch of minutes, KeepCalling.com recently implemented this change.
If customers renew their plan before the 30-day expiration date, the minutes that they have left on their current plan will be added to the new one they buy. However, if they don't renew their plan, it will still be renewed automatically after 30 days, just like before, and the minutes left will not roll over.
Monthly Plans are monthly subscriptions which offer discounted rates for certain destinations for low monthly fees. The countries where customers can call with KeepCalling.com's monthly plans are: Australia, Bangladesh, Bulgaria, Canada, China, Colombia, India, Germany, Kenya, Mexico, New Zealand, Nigeria, Pakistan, Poland, Romania, South Korea, Thailand, and United States.
Customers are happy both with the quality and with the prices offered by KeepCalling.com. On Trustpilot, a famous review site, KeepCalling.com receives constant feedback from its customers and currently has an 8.5 rating. One customer writes, 'Good quality service. Great on the road and at home. Exceptional voice clarity. I recommend KeepCalling to people that want a better calling experience.'
To find out more about KeepCalling.com's newest offer and campaigns, customers are invited to visit their blog at blog.keepcalling.com or to follow them on:

Facebook.com/iamhomesick
Twitter.com/KeepCalling
Plus.Google.com/+KeepCalling
About KeepCalling.com
KeepCalling.com is an interactive website designed by KeepCalling, a global telecommunications company registered in 2002 in USA. Presently, KeepCalling provides its services to hundreds of thousands of consumers and businesses, with a focus on customer satisfaction. KeepCalling has been listed by Inc 5000 as one of the fastest growing companies in the USA for 5 consecutive years. In 2015 the company registered a revenue increase of over 200% from 2011 to 2014.