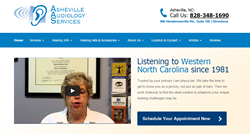 Asheville, NC (PRWEB) January 14, 2016
Hearing loss remains one of the most misunderstood health-related subjects in the US, and many people fail to realize just how prevalent the condition actually is. Most are surprised to learn that around 48 million people in the US have some degree of hearing loss and that more than 30 million people with hearing loss are under the age of 65.
That's about 20 percent of the entire population that has some degree of difficulty hearing, distributed across all age groups. In fact, according to the World Health Organization, 1.1 billion teenagers and young adults worldwide are at risk of hearing loss from exposure to unsafe sound levels from personal audio devices and noisy environments like nightclubs and concerts.
Another surprising fact is that only 20 percent of those who could benefit from hearing aids use them. According to Asheville Audiology Services, the top barrier that prevents people from getting help for their hearing loss is a lack of accurate information. People tend to view hearing loss as a problem that only affects old people, or as a problem that hearing aids can't correct.
On the contrary, hearing loss affects people of all ages and modern hearing aids have been shown to be highly effective. Despite this, only one out of every five people who could benefit from hearing aids will seek help, and they'll wait for an average of five to seven years before doing so.
By continuing to educate the public, Asheville Audiology Services hopes to raise awareness about hearing loss, its prevalence, how it affects all age groups, and most importantly that it can be effectively treated.
For more information about hearing loss, read the full article titled 10 Surprising Facts About Hearing Loss.
About Asheville Audiology Services
Asheville Audiology Services is a full-service audiology practice located in Asheville, North Carolina. The practice offers comprehensive hearing care services to help members of the local community hear better, live better, and reconnect with loved ones.
Contact:
Cynthia B. Earle, Au.D.
Asheville Audiology Services
(828) 348-1690
http://www.ashevilleaudiology.com