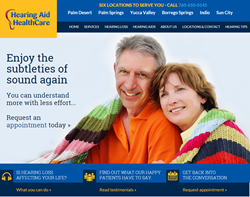 Palm Desert, CA (PRWEB) January 14, 2016
Life presents challenges and obstacles for everyone, but for those with hearing loss, overcoming those challenges and obstacles can seem even more intimidating.
The achievement of difficult tasks in the face of overwhelming odds is a reminder of the power of human determination and perseverance. Nowhere is this more apparent than in those who accomplish challenging tasks while simultaneously battling hearing loss.
Hearing Aid HealthCare, in a recently published article titled Overcoming Hearing Loss – This Year's Best Stories, recognizes eight individuals, who over the course of 2015 overcame hearing loss to accomplish great things. The list includes Miss San Antonio Emma Rudkin, musician Justin Osmond, NFL player Derrick Coleman, mountaineer Win Whittaker, designer Sarah Ivermee, and high school graduates Hannah Neild, Carley Parker, and Ryan Flood.
These stories demonstrate that those with hearing loss—with the support of friends, family, and the right technology—can achieve ambitious goals in any field. Derrick Coleman, for instance, not only became the first hard-of-hearing NFL player but also played in the Super Bowl. Justin Osmond became an award-winning musician despite hearing loss, and Win Whittaker still enjoys his career as a mountaineer, musician, and filmmaker.
The article also includes stories of three high school graduates who are pursuing challenging careers in medicine and physical therapy.
Hearing Aid HealthCare wants to spread the message that those with hearing loss, with a little help and a lot of determination, can succeed in any field or discipline.
About Hearing Aid HealthCare
Hearing Aid HealthCare has served the Coachella Valley area for over 18 years. They offer a full range of diagnostic and preventative hearing healthcare professional services, including hearing aid screening, evaluations, hearing aids sales and rehabilitative and preventative counseling.
Contact:
Jeannette Hait
Hearing Aid HealthCare
760-610-0145
http://www.hahc.net