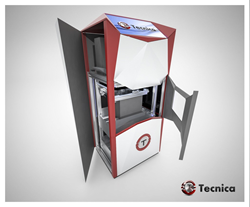 Our new patent in addition to a set of Tecnica's intellectual properties puts us on the map of the 3D metal printing industry, says CEO and Founder Charles Bibas
Great Neck, NY (PRWEB) January 19, 2016
Tecnica, Inc. a 3D printing company, proudly announces that the United States Patent and Trademark Office (USPTO) issued this week US patent number 9,233,507 for its 3D printing bed leveling technology system. The invention covers the automatic alignment and leveling process of the printing bed, for faster printing and reduction of errors that are caused by bed leveling issues found in most 3D printers.
The new platform allows quick and accurate alignment of the print surface in reference to the print head, thus reducing the print bed preparation time while increasing accuracy.
The technology is based on the simultaneous emission of infrared signals and reception of the deflecting signals from the opposite surface. The patent incorporates a tuneup algorithm and a leveling algorithm to control the leveling actuator.
This newly issued patent further enhances the company's Intellectual Properties to include hardware, software, and algorithms addressing better quality, higher resolution and faster 3D printers at a lower cost.
The new system is offered as a kit to be incorporated into existing 3D printers or to be licensed to 3D printer manufacturers or CNC manufacturing companies.
Tecnica, Inc. is a privately owned company established in Great Neck, New York in 2013. The company is led by a team of Electrical Engineers, Computer Engineers, Physicists, and Mechanical Engineers with over 50 years of combined experience in the Aerospace Industry, NASA and the Auto Industry. The company utilizes the latest technology combined with its own IP in the interrelated field of 3D printing. Tecnica is a manufacturer of high-resolution metal and nonmetal of Selective Laser Sintering ( SLS ) 3D printers.
Media Contact:
Tecnica, Inc.
212.951.0018
press(at)tecnica(dot)com