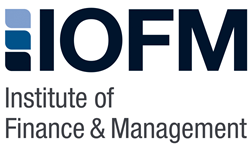 By adding the high-value content and audienceof the AP & P2P Conference to the offering, this will by far be the best place to gain and share knowledge withthe industry
Portland, ME (PRWEB) January 14, 2016
The Institute of Finance and Management (IOFM) and PayStream Advisors announced today that they will join forces in 2016 to host P2P Automation Masters , a pre-conference event and all-new educational track within IOFM's Accounts Payable and Procure to Pay Conference and Expo at Caesars Palace in Las Vegas, October 24-26th.
Since 2007, PayStream has independently hosted its annual Innovate P2P Summit, featuring critical workshops, roundtables, and keynote speeches by leaders in the P2P marketplace. Automation Masters will replace and expand upon Innovate, offering attendees the same high-caliber programming and intimate networking that earned the program its highest rating ever in 2015, plus access to the full AP & P2P Conference and Expo.
P2P Automation Masters will begin as an intimate full-day pre-conference event before folding into the AP & P2P program as a distinct educational track. Automation Masters attendees will have the option to attend any or all of the 13 sessions led by PayStream's prestigious faculty, or attend concurrent sessions offered in the conference program. These sessions cover every aspect of the P2P field, from leadership development to day-to-day department function. Numerous networking events and an expanded exhibit hall will round out the experience.
This event combines PayStream's decade-long record of groundbreaking research and thought leadership with the wide-reaching scope of IOFM's AP & P2P Conference & Expo. Past attendees of either event can expect more keynote speeches from business insiders, more critical P2P players in attendance, more intimate workshops for the development and exchange of new ideas and practices, and the combined commitment to excellence of both IOFM and PayStream Advisors.
Henry Ijams, Managing Director of Paystream Advisors, sees the new event as an expanded version of Innovate. "P2P Automation Masters will still provide the same intimate gathering and networking experience that Innovate attendees have enjoyed in the past," said Ijams. "By adding the high-value content and audience of the AP & P2P Conference to the offering, this will by far be the best place to gain and share knowledge with the industry."
"We are thrilled to partner with PayStream on this program," said Brian Cuthbert, Executive Director of IOFM. "By bringing the AP & P2P and Innovate programs and audiences together in one place, it's now even easier for P2P professionals to access the very best professional development and in-person networking our field has to offer."
The Accounts Payable and Procure-to-Pay Conference and Expo is a biannual event offering workshops, certification programs, critical keynote addresses, a curated exhibit hall, and opportunities for leading professionals in the AP and P2P sphere to network, share ideas, and collectively determine the future of the business. For more information, visit http://www.iofm.com/conference.
About IOFM:
The Institute of Finance and Management (IOFM) is the leading organization providing training, education and certification programs specifically for professionals in Accounts Payable, Procure-to-Pay, Accounts Receivable and Order-to-Cash, as well as key tax and compliance resources for Global and Shared Services professionals, Controllers and their F&A teams.
IOFM has certified nearly 20,000 financial operations professionals worldwide through its four certification programs. These programs include Accredited Payables Specialist or Manager (U.S. and Canadian specific versions available), Accredited Receivables Specialist or Manager and Certified Professional Controller. The globally recognized AP & AR certifications are available in English, Simple Chinese and Spanish.
IOFM's membership networks, the AP & P2P Network (http://www.app2p.com) and AR & O2C Network (http://www.tarn.com), feature industry research and best practices, metrics and benchmarking data, policies, case studies, tools, templates, and critical compliance and corporate governance resources. The Institute also produces on-demand e-learning resources including video trainings and web-based seminars. IOFM hosts industry-leading conferences designed to facilitate continuing education and peer networking. These events include the Accounts Payable and Procure-to-Pay Conference and Expo (Spring and Fall), and the Accounts Receivable & Order-to-Cash Conference.
With a universe of over 100,000 financial operations professionals, growing certification and membership programs, and a keen understanding of the issues and content needs critical to the profession, IOFM is the trusted source of information in the rapidly evolving field of financial operations.
About PayStream:
PayStream Advisors is a Charlotte, NC-based market research and consulting firm dedicated to accounts payable, finance and procurement innovation and education. The firm provides finance and procurement professionals with trusted research, in-depth consulting, and unparalleled educational content designed to give their organizations competitive advantages.