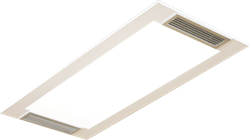 "We are so proud that the HRMS is part of the Baylor College of Medicine Emergency Smart Pod project."
South Bend, Indiana (PRWEB) January 15, 2016
American Green Technology® (AGT) is proud to work with Baylor College of Medicine to integrate the Health Risk Management System or HRMS into the design of the Emergency Smart Pod. This project is under the direction of Baylor Global Initiatives whose mission is to make meaningful and innovative contributions in the transformation of global health through education, training, research, capacity building, and patient care.
Challenged with creating a solution for battling epidemics when resources are scarce, Baylor Global Innovation Center has created the Emergency Smart Pod as a modular, low-cost, portable, scalable emergency management facility. The pod is an optimized treatment unit that can be rapidly deployed, domestically or internationally, and can integrate culturally-appropriate patient care protocols. The HRMS is included in the pod as an environmental disinfection system to reduce the amount of pathogens in the air.
"Baylor College of Medicine is a world class organization that contributes tremendously to the healthcare industry," said Danny Bogar, CEO of AGT. "We are so proud that the HRMS is a part of the Emergency Smart Pod project. The HRMS is an air treatment solution that can be critical to keeping the triage area clean. Natural disasters and epidemics like the recent Ebola outbreak make it extremely difficult to treat patients and keep healthcare workers safe in the process. If the HRMS can help provide cleaner air for those in need, we are honored to be a part of it."
The HRMS is an active system which uses a set of fans to draw in air potentially eliminating or reducing pathogen levels right at the source. Unlike many UV-C technologies which require line of sight to treat surfaces and reduce contaminants more effectively the closer they are; the HRMS will bring the contaminants to the UV-C source, ensuring a higher elimination rate. Studies show that reducing the number of pathogens in the air lessens the number that settle on surfaces.
To watch a brief video on how the system works, log on here.