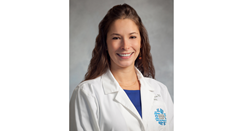 I believe in helping women play an active role in their health and well being, through education and empowerment.
Columbus, OH (PRWEB) January 18, 2016
Women's health specialist, Jessica Guinness, MD Ob/Gyn has joined Kingsdale Gynecologic Associates, a division of MaternOhio Clinical Associates, Inc. She is accepting new patients at two convenient office locations in Upper Arlington and Powell.
As a highly skilled Ob/Gyn physician, Dr. Guinness provides a full range gynecological care. Her knowledge and experience in all modalities of contraception allows her to treat the whole patient in all phases of a woman's life.
"I believe in helping women play an active role in their health and well being, through education and empowerment" said Dr. Guinness. "I maintain high standards for myself and my practice of medicine by staying current with the latest medical guidelines, recommendations and research."
Dr. Guinness completed her Ob/Gyn residency at OhioHealth Riverside Methodist Hospital in Columbus, Ohio, before joining Kingsdale Gynecologic Associates in 2015, which has been providing a full range of women's gynecological care for over 50 years in Columbus, OH. Dr. Guinness received awards during her residency training for service and dedication in the Riverside community clinic, as well as recognition for her abilities in female pelvic and reconstructive surgery. Dr. Guinness lives in Dublin, OH with her husband, their 4 month old daughter and their dog. She enjoys spending time with her family, staying active, yoga and being outdoors.
"The focus of my practice is providing excellent care for women in all phases of life, by providing education, advice and empowerment" said Dr. Guinness. "First and foremost I am a mother, wife, sister, and daughter so I can relate to my patients and strive to do so every day."
Kingsdale Gynecologic Associates strives to provide patients with the highest quality and most comprehensive women's health care in central Ohio. Kingsdale Gynecologic Associates offers many in office procedures such as biopsies, IUD placement, colposcopy, hysteroscopy and more. Their offices feature multiple sonographers, which increases available ultrasound appointments. They have an OB triage area to help pregnant patients avoid having to go the RMH triage on L&D. They also have a lab onsite as well as a small pharmacy that offers common GYN medications.
To learn more about Kingsdale Gynecologic Associates and request an appointment, visit: http://www.moca-obgyns.com/practice-kingsdale/
Dr. Guinness is an active member of the medical staff of OhioHealth Riverside Methodist Hospital.
About OhioHealth
OhioHealth is a nationally recognized, not-for-profit, charitable, healthcare organization with Methodist roots. Based in Columbus, Ohio, OhioHealth is currently recognized as one of the top five large health systems in America by Truven Health Analytics, an honor it has received six times. It is also recognized by FORTUNE Magazine as one of the "100 Best Companies to Work For" and has been for nine years in a row, 2007-2015.
Serving its communities since 1891, it is a family of 28,000 associates, physicians and volunteers, and a network of 11 member hospitals, 50+ ambulatory sites, hospice, home-health, medical equipment and other health services spanning a 40-county area.
OhioHealth hospitals include OhioHealth Riverside Methodist Hospital, OhioHealth Grant Medical Center, OhioHealth Doctors Hospital, OhioHealth Grady Memorial Hospital, OhioHealth Dublin Methodist Hospital, OhioHealth Hardin Memorial Hospital, OhioHealth Marion General Hospital, OhioHealth O'Bleness Hospital, OhioHealth Mansfield, OhioHealth Shelby and OhioHealth Rehabilitation Hospital. For more information, please visit our website at http://www.ohiohealth.com.