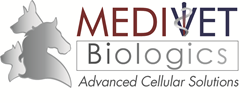 This study provides for the first time, evidence of safety and efficacy of veterinary cellular therapy using quantitative outcomes.
Orlando, FL (PRWEB) January 14, 2016
MediVet Biologics, a privately held animal health biopharmaceutical company, will present new evidence on the use of ActiStem Therapy™, (Stem Cells) for the treatment of osteoarthritis in canines. The study conducted at Kansas State University was designed as a double-blind placebo controlled randomized trial. Dr. Mark Weiss will present the study on Tuesday, January 19th at 5:30 EST during the NAVC conference in the Miami Room at the Gaylord Hotel.
The study found that ActiStem Therapy™ treated dogs improved and included statistical significance in owner, veterinarian and some objective pressure sensitive walkway (PSW) measures. The data included validated pain assessment, using scoring with Canine Brief Pain Inventory (CBPI), goniometry, and visual analogue scale (VAS). No adverse events were observed in the treated population.
According to Mark Weiss, Ph.D., and Professor at Kansas State University College of Veterinary Medicine, "This study provides for the first time, evidence of safety and efficacy of veterinary cellular therapy using quantitative outcomes. Initially this study was designed for safety and as a power analysis to be used for future studies. When we received the data points back from the statistician we were encouraged to learn we reached p-value statistical significance in owner and veterinary evaluation as well as some objective endpoints. Having a partner like MediVet Biologics which supports evidence based medical validation will advance cellular therapy and this industry."
MediVet President & COO Jeff Baker stated, "We are fortunate to be surrounded by such a progressive customer base and we will continue to invest in university projects that are applicable to what they are experiencing in their practices. Our goal is to provide new treatment modalities based in science backed with customer service and product education. Our university projects will continue to address needs in Veterinary Medicine. We are very excited to share this study."
ActiStem Therapy™, MediVet's protocol and proprietary method was used in the KSU study. ActiStem allows for veterinarians to harvest adipose or fat tissue to isolate the high number of Stem Cells found present. The procedure is less invasive and yields a higher number of Stem Cells when compared to Bone Marrow aspiration. After collection, the cells are then isolated with the MediVet Biologics ActiStem Therapy process and are administered back to the patient. The update in technology allows for an affordable in-clinic option for Veterinarians.
About MediVet Biologics:
Founded in 2010, MediVet Biologics is a global leader in the field of Veterinary Regenerative Medicine. Since 2010, the company has continued to develop a pipeline of biologic products and services for the general practice veterinarian. A major advancement in the field of Veterinary Medicine has been ActiStem Therapy™ which allows veterinarians to treat patients with Adult Stem Cells (ASCs) in a same day setting. In 2015 MediVet Biologics launched K9-ACV or canine autologous cancer vaccine which provides the general practice Veterinarian an immunotherapy option for canine cancer. For more details, contact MediVet Biologics at http://www.medivetbiologics.com
For pet owners & Veterinarians seeking additional information, please email us at info(at)medivetbiologics(dot)com or contact MediVet Biologics at 1 (800) 365-9168.