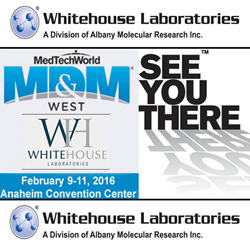 Attending MD&M West again enables us to extend our reach for specialized services such as our container closure integrity services and our technical services in drug delivery testing
Anaheim, CA (PRWEB) January 28, 2016
Whitehouse Laboratories is excited to announce that it will be attending for the second year, the upcoming Medical Design and Manufacturing (MD&M) West event and conference being held on February 9th through the 11th at the Anaheim Convention Center in Anaheim, California. With a comprehensive agenda that includes manufacturing and development of drug delivery devices, Whitehouse Labs is well suited to support the testing requirements for these activities.
"Attending MD&M West again enables us to extend our reach for specialized services such as our container closure integrity services and our technical services in drug delivery testing", states Whitehouse Labs General Manager Mark Stier. Now as part of AMRI, Whitehouse Labs also extends its reach into extractable/leachable testing capabilities.
MD&M West, this year's conference will enable attendees to get the latest information on top-level developments in the industry. Attendees will hear from the industry's brightest and gain valuable insights that will help them overcome the most crucial challenges from concept to market. The annual industry gathering also offers the opportunity to build your knowledge and your network. Key Speakers include influential author and inventor, Ray Kurzweil and Director of Production at Limbitless Solutions, Dominique Courbin.
As an FDA regulated organization, Whitehouse Labs' ISTA and ISO 17025 certified laboratory, offers our client's personal service and access to the accumulated knowledge of seasoned Packaging and Medical Device Professionals. We offer the most up to date test methods and access to the most modern equipment from industry leaders such as Lansmont, Instron, and PTI Inspection Systems. Whitehouse services cover a wide range of testing from orthopedics, prefilled syringes, inhalers, cardiovascular devices, auto-injectors, simulated distribution, medical device material qualification to container closure integrity (CCI). Whitehouse Laboratories is here to support your products for commercialization around the world.
About Whitehouse Laboratories
The leader in testing, Whitehouse Labs – which was recently acquired by Albany Molecular Research Inc. (AMRI) – offers comprehensive analytical services - providing support for manufacturing from development to market. From analytical chemistry and material qualification to packaging optimization, Whitehouse Laboratories is the testing partner for the world's leading Pharmaceutical, Biotechnology, Medical Device, Life Sciences and Consumer Products organizations.
About MedTech World
MedTech World educates, inspires and delivers results for the community involved in the design, development and manufacturing of medical devices and technologies. As the market leader, MedTech World is dedicated toproviding event, media, networking and marketing solutions with the highest quality content, latest news, information and resources for medical manufacturers and suppliers that connect this community in its efforts to develop critical healthcare products that save lives and enhance the quality of life.