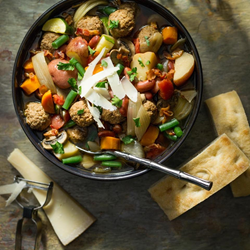 Oklahoma City, OK (PRWEB) January 14, 2016
The Made in Oklahoma Coalition officials are delighted to announce this month's recipes. These combinations are sure to be a wonderful kick off to the New Year. Happy 2016!
The following recipes use ingredients from Made in Oklahoma Coalition food manufactures with products produced by Griffin's, Andrew Honey Bees, Scissortail Farms, Hiland Dairy, Suan's Scotch Bonnet, Head Country, Bar-S, J-M, and more.
Chopped Kale Salad
Makes 6 servings
Dressing:
1/3 cup sliced raw almonds
2 tablespoons red wine vinegar
2 tablespoons olive oil
1 tablespoon Griffin's mustard
1 tablespoon Andrews Honey Bees honey
1 teaspoon minced shallot
1 garlic clove, minced
¼ teaspoon kosher salt
½ teaspoon freshly ground black pepper
Salad:
2 bunches Scissortail Farms kale, ribs and stems removed
1/3 cup dried cranberries
½ cup pomegranate seeds
4 ounces goat cheese
Preheat the oven to 400 degrees. Spread the almonds evenly on sheet a pan, and bake for 5 minutes, or until lightly browned.
Whisk together the vinegar, olive oil, mustard, shallot and garlic. Add salt and pepper, adding more or less to taste.
In a large bowl, toss the kale, toasted almonds, cranberries, pomegranate seeds and dressing. Let sit for 10 minutes, then crumble with goat cheese and serve.
Hot Ham and Cheese Sliders
Ingredients:
4 sturdy rolls, like ciabatta, or French bread cut into 4 pieces for sandwiches
2 tablespoons Hiland Salted Butter
¼ cup Suan's Scotch Bonnet Pepper Jelly
3 tablespoons softened cream cheese
¼ teaspoon Head Country All-Purpose Championship Seasoning
8 slices Bar-S Deli-Shaved Honey Ham
4 slices Bar-S Fully Cooked Bacon, warmed
4 slices thin-sliced smoked cheddar cheese
Directions:
Slice rolls or bread in half, sandwich style. Spread outsides of bread with butter. Set aside.
In a small bowl, combine pepper jelly, cream cheese and seasoning. Spread this mixture on inside of rolls. Layer ham, bacon and cheddar on each bottom bun. Cover each with top bun.
Use a panini maker or griddle, cooking about 5 minutes and toasting bread on both sides. If you don't have a panini maker, cook sandwiches at medium-high heat in a skillet, turning to toast both sides of the bread, and cooking until golden brown. Press down sandwich with the back of a spatula.
Cut in half, and serve warm.
Meatball Soup
Ingredients:
2 dozen meatballs from 1 bag Fast Fixin Italian Style Meatballs
8-ounce package J-M sliced mushrooms
1 cup fresh green beans, cut into 1-inch pieces
2 carrots, sliced
6 small red potatoes, chopped
1 medium zucchini, sliced
1 yellow onion, chopped
4 cloves garlic, chopped
1 (28-ounce) can diced tomatoes
1 can kidney beans, rinsed and drained
½ pound Bar-S Fully Cooked Bacon, warmed and crumbled
1 teaspoon salt
1 teaspoon freshly ground pepper
½ teaspoon Head Country All-Purpose Championship Seasoning
3 cups chicken broth
3 cups water
¼ cup chopped fresh parsley
Grated Parmesan cheese
Directions:
Combine all ingredients, except fresh parsley and Parmesan cheese, in slow cooker. Cook on low for 8 hours. Season with salt and pepper. Garnish each bowl with parsley and Parmesan cheese.
About Made in Oklahoma Coalition
Providing a marketing and promotional platform to assist more than 45 Oklahoma food manufacturers, the Made in Oklahoma Coalition (MIO) builds brand preference and loyalty for members and its products. The MIO Coalition-member companies create a positive economic impact on the Oklahoma economy by employing more than 28,000 Oklahomans. The member-companies of MIO generate over $4.1 billion in annual sales for the state's economy. The MIO Coalition continues to expand the footprint of Oklahoma's food manufacturing sector through business retention and growth. For more information about MIO and its member companies, please visit http://www.miocoalition.com.
Media Contact:
Carter Campbell | 405-286-9635 | carter(at)boilingpointmedia.com