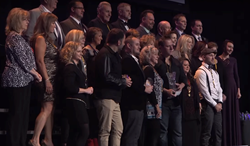 To see my concept...be recognized and awarded at the very highest level is a feeling I won't soon forget
Atlanta, GA (PRWEB) January 14, 2016
Professional Photographers of America (PPA) presented the Grand Imaging Award this week at Imaging USA 2016, the largest annual convention and expo for pro photographers by pro photographers. The award went to Ted Linczak, for his album 1863 in the non-event album category.
"One of the great benefits of competing in the IPC is the ability to bring a concept from the depth of your imagination into the reality of a visual narrative," said Linczak. "To see my concept of 1863 be recognized and awarded at the very highest level is a feeling I won't soon forget!"
Ted Linczak was selected as the overall Grand Imaging Award winner out of a pool of six category winners. The other winners were Jerry Ghionis in the event album category, Sandra Pearce in the artist category, Ben Shirk in the illustrative category, JB Sallee in the wedding category and Kimberly Smith in the portrait category. Each category winner received a crystal award and a $500 cash prize. Linczak received a second trophy and an additional $500 prize.
The Grand Imaging Award winners have been judged to be the very best of the 2015 PPA International Photographic Competition (IPC). The Grand Imaging Award winner is selected from thousands of entries. Linczak's image was judged by a panel of over 40 jurors to be the very best of all of the loan collection images – which makes it the best of the best of the best.
In addition to the Grand Imaging Award, PPA awarded medalists from the IPC. Bronze medalists had all four of their submitted images earn merits. Silver medalists had one of their images entered into the Loan collection and on up to a four for four perfect case for Diamond medalists. At this year's ceremony, PPA awarded 56 bronze, 115 silver, 101 gold, 69 platinum and 35 diamond medalists ... an increase over last year in every category.
The International Photographic Competition is held each August. District competitions are run January through March. All PPA photographic competitions are open to the public. For more information, visit PPA.com/Competitions.
About PPA:
Professional Photographers of America (PPA) is the largest international non-profit association created by professional photographers, for professional photographers. Almost as long-lived as photography itself, PPA's roots date back to 1869. It assists more than 29,000 photographers through protection, education and resources for their continued success. See how PPA helps photographers be more at PPA.com.