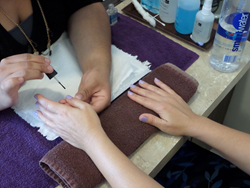 Demand for hairstylists, nail technicians and skin care specialists means more than 77,600 new beauty and wellness professionals may be needed by 2022.
San Diego, Cali. (PRWEB) January 14, 2016
Bellus Academy is partnering with the Association of Private Sector Colleges and Universities (APSCU) to raise awareness the "Shortage of Skills" in America campaign. The initiative launched in December 2015 and raises awareness of many careers that don't require a four-year degree but offer robust job demand and the opportunity to find work in an individual's area of study. Throughout 2016, the campaign will share data on careers that present strong market demand, ranging from truck drivers and automotive service technicians to home health care workers and hairstylists.
Lynelle Lynch, owner and president of Bellus Academy (recently ranked the number one beauty and wellness academy in North America by Intercoiffure), said the U.S. Department of Labor monthly job reports continue to support the practicality of career education and APSCU's efforts to raise awareness of rewarding careers that don't require a four-year degree. "While last month's jobs report revealed that 292,000 jobs were created in December, it's important to note than 90% of the jobs being created are in the service sector – an area where career education has always dominated," she said.
One factor driving the national debate about higher education is the relationship between an individual's college major and the work her or she does following graduation. U.S. Bureau of the Census Data reports that just 27% of four-year college graduates have a job related to their major. In comparison, Bellus Academy places nearly 80% of its graduate in beauty and wellness industry jobs within one year of graduating.
Monthly job reports also highlight "seasonality", an often overlooked factor in job reports. For example, robust gains in some sectors reflect spikes related to the holidays, summer tourism and other seasonal considerations. "One of the great insights that came out of the Great Recession was that the beauty industry is immune to changing seasons – hair doesn't stop growing when the economy declines," said Lynch.
Perhaps the strongest indicator of a career's potential is job demand. According to the Bureau of Labor Statistics, demand for extensions, hair coloring, straightening and other beauty and wellness services could translate to more than 77,600 new cosmetology positions by 2022. The numbers are also strong in Southern California. Bellus Academy posts more than 3,100 jobs across its four campuses annually and has nearly 100 open jobs currently posted by its partner salon employers.
But as impressive as the numbers are, Lynch says that qualitative considerations are also attracting individuals to careers in beauty. Hairstylist ranks 9th on the Money U.S. News 2016 list of "Best Social Service Jobs." Lynch says the high ranking does not surprise her. "Beauty and wellness professionals are in the business of helping people feel better about the way they look and that's rewarding for hairstylists and clients alike." She added that hairstylist also scores high for "flexibility."
About Bellus Academy: Honored with the Intercoiffure Mondial Best Continental Academy award in 2015, Bellus Academy is an award-winning beauty and wellness institution dedicated to graduating career-ready professionals. Bellus specializes in advanced training and has built a reputation for innovative education, consistently nabbing top honors in Modern Salon's Excellence in Education program. Bellus Academy continues to partner with the highest caliber of experts, product lines and equipment manufacturers, raising the bar for educational training worldwide.
Media Contact:
Susan Miller / 765-620-2007 / smiller(at)5metacom(dot)com