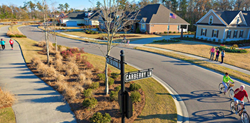 Healthy Events in Coastal North Carolina to Kick off the New Year Right
Wilmington, North Carolina (PRWEB) January 15, 2016
Real Estate Scorecard encourages folks to kick off the year right. Join the Beethoven 5k and 15k races on Sunday January 24th, starting at 9 a.m. at one of the leading and respected Wilmington NC communities. Sponsored by Josh London of State Farm Insurance, the races take place on the scenic trails of beautiful Brunswick Forest. The course features a flat, paved running path, a 1/3 mile elevated boardwalk, and passes through a natural area and around a magnificent lake. Participants in the race can expect:
Collectable 15K Finisher Medals
Individual and 4-person (up to 8 people) 15K team entry categories
Indoor bathrooms and locker rooms available before and after the race
Costume contest. Those carrying a musical instrument also eligible - serious prizes!
Zorrel long sleeved dry-fit 15K shirts and long sleeved 5K heavy cotton shirts - guaranteed if folks register by January 15th. Extra shirts will be ordered but they are not guaranteed after the 15th.
Discount hotel rates are at the new Holiday Inn Express in Leland. It's a runner-friendly hotel only 5 minutes from the start of the race.
After the race, there will be a celebration party at the Brunswick Forest Fitness Center. This will include spirits, great food, an awards presentation, and drawings for serious prizes. Proceeds from the race will go to the Wilmington Symphony Orchestra. And if folks are a fan of the race, check out the Brunswick Forest Veterinary Hospital Hound Hustle in April, with a 10K, 5K & 1-mile Trot with Spot (a great chance to run with the family's dog).
What makes this event special is that it takes place in Brunswick Forest, one of the best Wilmington NC communities for walking, running and biking. With more than 4,500 acres of landscaped parks and wild natural area, there are beautiful scenes along 100 miles of paved and unpaved trails. Not only is Brunswick Forest an ideal place for the upcoming Beethoven Runs, it is also one of the best places to live in North Carolina.
Of all the best Wilmington NC communities, Brunswick Forest is for those who enjoy the outdoors. Just a few of the exclusive outdoor activities at Brunswick Forest include:
Walking or biking 100 miles of exquisite nature trails
Swimming and fitness at two large community pools
Golf at Brunswick Forest's Cape Fear National 18-hole championship golf course
Kayaking and canoeing along Town Creek, where you can relax, picnic, see wildlife, and drop your fishing line
Meeting friends and family at the Community Commons, for picnics, fishing, relaxing on the lawn, and other outdoor fun
Besides having exciting amenities, Brunswick Forest is only 30 minutes from pristine North Carolina beaches. And there is also excellent shopping and dining at The Villages at Brunswick Forest, where folks can find a dentist, spas, take their pet to the veterinarian, and manage their banking and financial services. These conveniences and more make Brunswick Forest one of the best places to live in North Carolina.
Folks who are interested in one of the best places to live in North Carolina and the Leland North Carolina real estate development, should call Brunswick Forest directly at 877-588-4313 to schedule a tour.
The crisp winter months are a great time to visit North Carolina, and to explore Leland North Carolina real estate development. It is also a great time to stretch the legs with a 5k or 15k run, and help benefit the wonderful music of the Wilmington Symphony Orchestra. For Baby Boomers, running is great a way to stay healthy well into the golden years.
About Real Estate Scorecard:
Real Estate Scorecard writes unbiased real estate reviews providing in-depth information about popular gated communities in Florida, Georgia, the Carolinas, Tennessee and Central America, all in an effort to help people discover where to retire in the South.
Website: http://realestatescorecard.com