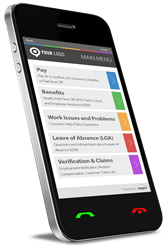 "We built our mobile platform to provide a real omni-channel customer experience with multiple communications paths and with our new capabilities." Says Zappix Chairman, Avner Schneur
Boston, MA (PRWEB) January 14, 2016
Zappix, the innovative Smartphone Visual IVR provider, announced today that its Visual IVR software suite platform now supports voice enabled commands for integrating with the visual IVR prompts. The new voice capability enables a better and smoother Visual IVR experience. Users can now search for problems, solutions and even their channel of choice using speech, and receive visual prompts on their SmartPhone.
The new voice enabled Smartphone IVR empowers companies to provide the best of both worlds, Visual and Voice commands. Speech-Enabled Visual IVR allows organizations to effectively process high call volumes and reduce the frustration callers experience searching for an item in complex IVR systems.
"A recent study found that 77% of consumers say that valuing their time is the most important thing that a company can do to provide good service, providing better and more efficient ways to engage with customer service on their smartphones is now more important than ever," says Zappix Chairman, Avner Schneur. "We built our mobile platform to provide a real omni-channel customer experience with multiple communications paths and with our new capabilities, it is easier than ever for customer to find the right path and the preferred method of communication to reach the right department within the service provider. In both live voice and non-voice live and self service channels, resulting in increased satisfaction."
The easy-to-use Zappix smartphone Visual-IVR platform, with its Omni Channel user experience, places capability and convenience at the customer's fingertips. The ability to quickly explore different contact center customer service communication channels both visually and now with speech and retrieve answers immediately, dramatically enhances the user experience. Zappix's customer service platform has proved to improve customer satisfaction and Net Promoter Score (NPS), while reducing direct and indirect call center costs.
The Zappix Visual IVR mobile platform allows companies to create, deploy or update a visual IVR solution on native iPhone Android and Tablets as well as mobile web with a push of a button.
As an exceptionally flexible Visual IVR app, Zappix integrates voice and non-voice visual content with customer service channels that include phone (voice), web, live chat, mobile online forms, and multi-media (audio or video) self-help resources. Companies using this platform can realize significant reductions in app development costs while giving service-seeking customers exactly what they want and need-- better agent interactions driven by automation, self-service, around-the-clock accessibility and enhanced mobile/web convenience.
More about Zappix
The Zappix Cloud-based Visual-IVR platform is a SaaS (Software as a Service) solution for web or cross-OS mobile app, omni-channel, customer service communications. It allows the rapid deployment of a highly intuitive, extremely interactive Smartphone Visual IVR app that improves the customer care experience, reduces contact center costs and increases a company's Net Promoter Score™ (NPS).
The Zappix Smartphone Visual IVR and mobile self-service solution has grown rapidly and currently provides hundreds of contact centers with a streamlined way to empower and better serve customers. The continually expanding list of Zappix-supported organizations includes insurance companies, utility companies, banks, internet and mobile service providers, retailers, airlines and government agencies.
For more information about Zappix, visit http://www.zappix.com or contact Gal Steinberg, Vice President of Marketing at 781.214.8124; gal.steinberg(at)zappix(dot)com.