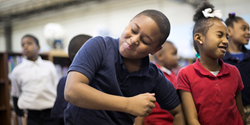 "THIS IS AN INCREDIBLE PROJECT-- EVERYONE DID A GREAT JOB! I AM HONORED TO BE A PART OF IT!" Logan Locke Baba
Kansas City, Mo (PRWEB) January 14, 2016
KC Healthy Kids, a nonprofit dedicated to improving the health of Greater Kansas City's children, has announced the recipients of six $1,000 first place awards for I Am Here, the nonprofit's youth photo contest designed to empower students to speak out for healthy communities. The winning classrooms will use their awards to promote student wellness.
The winning classrooms are:
3rd Grade: Border Star Montessori, Katie Wolfe, Kansas City Public Schools
4th Grade: Stony Point North Elementary School, Ray Lipovac, Kansas City, Kansas Public Schools
5th Grade: Meadowbrook Elementary, Sarah Farsace, North Kansas City School District
6th Grade: Prairie Elementary, Laura Moore, Shawnee Mission School District
7th Grade: Summit Lakes Middle School, Heather Crain, Lee's Summit R-7 School District
8th Grade: Missouri City School, Jill Payton, Missouri City School District
At a ceremony on March 2, students will give "Shark Tank" style presentations and ask audience members to get involved in their projects. A grand prize winner will be announced, and that school will receive $2500 to make lasting change in their community.
Through the contest, teachers helped students think critically about how their surroundings – walking trails or broken sidewalks, safe playgrounds or blighted lots, schoolyard gardens or fast food restaurants – impact their health. Hundreds of students were involved in the contest and submitted captioned photos illustrating how their communities help and hinder healthy habits.
The ceremony is 5:30 p.m. at the Kauffman Foundation Conference Center at 4801 Rockhill Road, KCMO 64110. Tickets can be purchased online at http://www.kchealthykids.org/store/i-am-here-awards-ceremony/. Event proceeds help KC Healthy Kids empower communities for healthy eating and active living. Funds raised also benefit Greater Kansas City's schools through I Am Here's cash awards. Event sponsorships are still available.
Eighteen schools received $100 Honorable Mention Awards. They are:
Charter & Private Schools
Keyonia Cobbins, Academy for Integrated Arts
Andrea Cook, Benjamin Banneker Charter Academy of Technology
Asha Moore, Academy for Integrated Arts
Ashlee Smith, Summit Christian Academy
Platte County R-3 School District:
Tyler Crawford, Pathfinder Elementary
North Kansas City School District
Sarah Farsace (3rd and 4th grades) , Meadowbrook Elementary
Kansas City, Kansas Public Schools:
Kristina Kidwell, Whittier Elementary
Sabrina Rauer, M.E. Pearson Elementary
Ray Lipovac (5th grade), Stony Point North Elementary School
Sildiane Quinteros, Whittier Elementary
Kansas City Public Schools:
Peggy Everist, J.A. Rogers Elementary
Lee's Summit R-7 School District
Cheryl McLaughlin, Hazel Grove Elementary
Julie Coram, Trailridge Elementary
Liz Mayes, Pleasant Lea Middle School
Joel Staponski, Pleasant Lea Middle School
Stu Reece, Bernard Campbell Middle School
Turner Unified School District 202:
Melissa Huskey, Midland Trail Elementary
About KC Healthy Kids
KC Healthy Kids rallies the people in our communities to improve access to affordable fresh food and safe places to walk and play. When our neighborhoods support healthy habits, we are less likely to suffer from obesity, which is linked to Type 2 diabetes, heart disease, and poor mental health. To make a lasting impact, we shape policies that improve our food system and physical surroundings, and, ultimately, the places where we live, work, learn, and play.