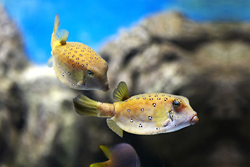 Tetrodotoxin and its water soluble salt, tetrodotoxin citrate have traditionally been available to researchers at a high price or with high delivery charges. In keeping with our price pledge, we are pleased that we can bring a high quality source of this.
Bristol, UK (PRWEB UK) 15 January 2016
Hello Bio announced today the launch of low cost tetrodotoxin (TTX) – a sodium channel blocker used by scientists carrying out electrophysiology techniques to investigate epilepsy, anxiety, Alzheimer's Disease and many more neurological conditions. Tetrodotoxin citrate (the water soluble form of Tetrodotoxin) is a sodium channel blocker isolated from the Puffer fish. Neuroscientists and electrophysiologists use TTX as a tool to help reduce neuronal or muscular electrical activity.
Hello Bio has launched this essential research tool at up to half the price of other suppliers.
Tetrodotoxin and tetrodotoxin citrate join a range of affordable and high quality ion channel modulators which also includes Conotoxin GVIA, Conotoxin MVIIC, ZD 7288 and D-AP5.
FURTHER INFORMATION
Hello Bio was founded by a team of experienced scientists and chemists who genuinely want to support life science research. Our aim is to offer a range of high quality life science tools at prices so low that as many researchers as possible will be able to afford them.
We offer a range of agonists, antagonists, inhibitors, activators, antibodies and fluorescent tools at up to half the price of other suppliers. The range includes:
Enzyme inhibitors and activators
Epigenetic tools
Ion channel modulators
Receptor ligands
Signaling tools
Stem cell modulators and more...
We also offer a cost effective custom synthesis service for customers requiring specialist tools, or bulk quantities.