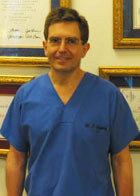 Allentown, PA (PRWEB) January 14, 2016
Dr. Joseph Gaspari now has openings for new patients who are interested in replacing missing teeth with dental implants in Allentown, PA. Anyone who suffers the embarrassment and oral health issues that arise from tooth loss can visit his office in Bethlehem, PA without a referral to begin the process of permanent replacement right away. Choosing implants allows patients to enjoy food without limitations, as well as restoring the self-confidence that comes from a natural smile.
When a person has one or more missing teeth, the gap may make eating difficult. While opting for dentures or partials fills the hole, neither choice offers the stability of the natural tooth since both rest on top of the gums. Chewy or crunchy foods, gum and sticky candies can cause issues for denture wearers, and some make the choice to avoid certain foods because of the potential for difficulties. Below the gum line, a more serious problem develops. Without the stimulation of the tooth root in the socket, the jawbone loses density and crumbles. As it shrinks, the sockets of the surrounding teeth shift, which eventually leads to more tooth loss.
Dr. Gaspari provides an alternative method of tooth replacement for his patients; they can choose dental implants in Allentown, PA rather than removable dentures. The dentist surgically places a titanium post in the empty socket to create the anchor for the new tooth, and after the healing process, he affixes the crown, completing the procedure. With the implant, a person can eat any foods without worrying about dislodging it. Good oral hygiene practices that include brushing, flossing and professional dental cleanings preserve the implant as well as the remaining natural teeth.
Whether or not an individual has a referral from another dentist, taking advantage of this offer is as simple as making an appointment for a consultation at his office in Bethlehem, PA. Those interested in dental implants in Allentown, PA can visit Dr. Gaspari's website for more information about the ways that dental implants resolve the oral health problems of missing teeth.
About the Doctor:
Gaspari Family Dental Care is a general practice offering personalized care for patients in Bethlehem, PA. Dr. Joseph Gaspari and his team are dedicated to providing comprehensive dental care through the use of innovative and modern techniques. Gaspari Family Dental offers a variety of other services such as laser gum surgery, Chao Pinhole® Surgical Technique, sedation dentistry and dental implants. Dr. Gaspari is a Fellow with the International Congress of Oral Implantology and with the Misch International Implant Institute. He is also a member of the American Academy of Periodontology and the American Society for the Advancement of Aesthetics in Dentistry. To learn more about the services offered at Gaspari Family Dental Care, please visit their website, http://www.drgaspari.com or call (484) 552-2081 to schedule an appointment.