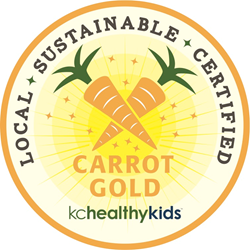 It's delicious, comfortable and friendly." Matt Davis, KC Healthy Kids' Farm to Institution Manager
Kansas City, Mo (PRWEB) January 14, 2016
KC Healthy Kids 'announces the Sundry has been certified as a 24 Carrot Gold partner in KC Healthy Kids' program Carrot Gold. A newcomer to the Crossroads arts district, The Sundry is recognized for excellence in supporting local food producers, acting sustainably, and offering healthy choices.
This modern take on the bodega sells everything from prepared food to home goods—most of it locally made.
"The Sundry proves that just about everything we need is nearby," says Matt Davis, KC Healthy Kids' farm to institution manager, who runs the program.
When you walk in the door, you can't help but notice the immense chalkboard map of Kansas and Missouri showing where The Sundry's products come from. Ryan Wing, co-owner with chef Aaron Prater, says the key to buying local is forming relationships and making it easy for farmers.
Wing spends about 45 minutes on the phone with each new supplier to learn about their business, their land and their methods. This year, he's making it a priority to personally visit each one. He says the farmers are often surprised at how easy it is to sell to The Sundry, with no rigid contracts or certification requirements.
"From my work at the college, I know how much time it takes to do something like GAP, and definitely organic," says Wing, a former analyst at Johnson County Community College's Center for Sustainability. "Farmers want to farm, not spend a bunch of time writing about how they farm," he says.
GAP stands for Good Agricultural Practices, a strict food safety certification that involves costly systems and equipment, isn't required by law and that consumers may or may not value.
Wing is comfortable with current food safety measures already in place at the farms and at The Sundry.
"If we buy from a local farmer, we know where they're farming and how. We have a relationship with them. If we buy conventional, we don't know where it comes from, but we do know it's sprayed with pesticides. Which one is more of a risk?"
In his mind, the relationship is the best kind of insurance policy.
"They don't want to let us down, we don't want to let them down," he says.
A commitment to sustainability has been an important part of The Sundry's business plan since the very beginning, and you could say it's the reason it exists at all. Wing had received a grant through EnergyWorksKC to help restaurants make the switch to more sustainable operations—an idea that didn't take off as expected. Prater helped with the search, and after driving around Kansas City day after day working with restaurants, the two decided to become partners and open their own restaurant, to create their own model.
And it's working. Nearly all the waste from the market and cafe can be recycled or composted, resulting in near 100% waste diversion. The small amount that can't be—food service gloves and some plastic packaging—winds up at a waste-to-energy facility via a nearby business.
Solar panels on the roof offer renewable energy that powers LED lights and induction cooktops, which are 86% energy efficient.
"It took a ton of work," says Wing, "but my attitude is if you are running a business that's counter to how the world actually works, you are setting yourself up for failure. The world can't support a lot of the things we do, and when you set yourself up the old way, it's harder to change."
The Sundry's scratch-made menu makes it easy to make a healthy choice. The dishes vary by season and always include vegetarian (and often vegan) options like tamales, risotto and curry meant to surprise vegetarians who've grown weary of hummus and pasta.
"What's been nice," says Wing, "Is that people who aren't vegetarian or vegan order those all time because they taste really good."
"I think that's a great way to sum up The Sundry," says Davis. "Even people who don't care if it's local or sustainable come because it's delicious, comfortable and friendly."
About KC Healthy Kids
KC Healthy Kids rallies the people in our communities to improve access to affordable fresh food and safe places to walk and play. When our neighborhoods support healthy habits, we are less likely to suffer from obesity, which is linked to Type 2 diabetes, heart disease, and poor mental health. To make a lasting impact, we shape policies that improve our food system and physical surroundings, and, ultimately, the places where we live, work, learn, and play.