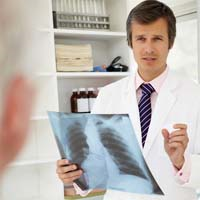 The completeness of cytoreduction is the most significant prognostic factor for long-term survival.
Raleigh, NC (PRWEB) January 16, 2016
Doctors at Mercy Medical Center in Baltimore say cytoreductive completeness (CC), a measure of how thorough a mesothelioma tumor is removed, has a bigger influence on peritoneal mesothelioma outcomes than anything else. Surviving Mesothelioma has just posted an article on the new study. Click here to read it now.
Cancer surgeons in Mercy's Institute for Cancer Care tracked the outcomes of 23 peritoneal mesothelioma patients who had cytoreductive surgery (CRS) and heated intraperitoneal chemotherapy (HIPEC) at their institution between 1999 and 2014.
"The completeness of cytoreduction is the most significant prognostic factor for long-term survival," writes cancer surgeon Dr. Armando Sardi, one of the paper's authors.
Other mesothelioma prognostic factors considered were gender, age, neoadjuvant chemotherapy, peritoneal cancer index score, histological subtype, and lymph node status.
"This study really emphasizes just how important it is for mesothelioma patients to have their surgeries done by highly experienced cancer surgeons who are likely to achieve the most complete cytoreduction," says Alex Strauss, Managing Editor of Surviving Mesothelioma.
To read the details of the new CRS/HIPEC study, see Completeness of Surgery in Peritoneal Mesothelioma Survival, now available on the Surviving Mesothelioma website.
Aydin, N, et al, "Outcomes of Cytoreductive Surgery and Hyperthermic Intraperitoneal Chemotherapy for Peritoneal Mesothelioma: Experience of a Peritoneal Surface Malignancy Center", December 2015, The American Surgeon, pp. 1253-1259, http://www.ncbi.nlm.nih.gov/pubmed/26736164
For nearly ten years, Surviving Mesothelioma has brought readers the most important and ground-breaking news on the causes, diagnosis and treatment of mesothelioma. All Surviving Mesothelioma news is gathered and reported directly from the peer-reviewed medical literature. Written for patients and their loved ones, Surviving Mesothelioma news helps families make more informed decisions.