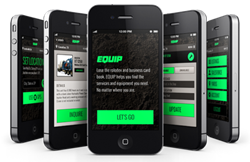 Stop wasting time searching for the equipment and manpower needed to get the job done. Don't let your workforce or machinery sit idle. EQUIP keeps you connected, prepared and producing.
Tulsa, Oklahoma (PRWEB) January 16, 2016
Equip Advantage's updated user interface, available as of the 1st of January, allows companies to access any and all industries that those companies need either on site or at conferences. This revolutionary application now includes oil and gas job search, classifieds for equipment, services from companies around the country and real-time GPS, equipment and services updates.
The Equip Advantage app is designed for oil and gas industry use from the office to the job site and everywhere in between. It is the premiere oil and gas software, its purpose is to revolutionize the way that equipment and services are located. Companies, consultants, flow back hands, pumpers and more can now find all of the equipment and services these companies need in order to set up that next job through the Equip Advantage app.
Individuals using the app have the ability to search by a specific keyword or service category needed and conduct their search with proximity technology. The app is GPS-enabled, allowing users to locate exactly what is needed when and where it is located. Available to use 24 hours a day and 7 days per week, the Equip Advantage app will save wasted time. Once the service or equipment has been located, a direct phone number and salesman will be listed, allowing the user to contact the company they need directly.
Featuring a classifieds section for all your oilfield equipment sales, job postings, business postings and just about anything to do with oil fields communication. They are quickly making an unprecedented name for the company as leaders within the oil and gas industries.
Also considered a good marketing tool, the Equip Advantage app provides companies with the opportunity to market any equipment and services. By paying a small fee, the app will include a detailed description of the equipment or service provided along with a location, contact number and email address. Equip Advantage also markets your business through all available social media outlets to thousands of oil and gas connections.
Navigating the app is quick and easy. Companies are able to access and manage the account from any device on the go. With real-time status updates, the Equip Advantage app ensures that those searching will find available equipment and services and those with that equipment will keep it out of the yards. Equip Advantage ensures that no piece of equipment set idle and keeps fleets producing.
Currently available for iOS and Android devices, the updated Equip Advantage app is both no cost to download and no cost to use. To find out more information, visit the website directly. To register now visit the registration page.
###