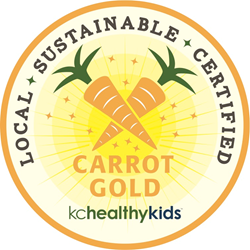 "Whole Foods is helping our local farmers thrive and providing the public with amazing, local foods." Matt Davis Farm to Institution Manager, KC Healthy Kids.
Kansas City, Mo (PRWEB) January 15, 2016
KC Healthy Kids honors Whole Foods Market as a 24 Carrot Gold partner of KC Healthy Kids' Carrot Gold program. The grocery store is recognized for excellence in supporting local food producers, acting sustainably, and offering healthy choices.
The market sells products from a number of local farms including Campo Lindo Farms, Prairie Star Farm and Chestnut Charlie's. They promote those products to their customers through in-store demonstrations, cooking classes and other events showcasing the delicious difference local food makes.
"We launched this program to recognize the efforts of businesses who are building up our local food system," says Matt Davis, farm to institution manager for KC Healthy Kids. "Whole Foods is doing that, helping our local farmers thrive and providing the public with amazing, local foods."
Davis certifies food service operations for their efforts in three areas: local food purchasing, sustainable operations and healthy options.
Whole Foods' commitment to sustainability allows customers to have faith that their purchase is a responsible choice both locally and globally. The market prioritizes products with little or no packaging and has systems in place to recycle or re-use all packaging.
Perishable products are a special challenge in the grocery industry, but Whole Foods has found solutions that conserve energy and resources while meeting a need in their community: near-expired produce is donated to local food banks and anything that has started to spoil is composted.
The market is also a first stop for many people who have healthy diets or want to eat better. Whole Foods offers classes and a "Health Starts Here," program to guide customers as they buy and cook healthy foods.
There are always local, freshly made foods in the store's prepared food section, and customers can get resources, tips and recipes around the clock from Whole Foods' website.
"In our quest to champion businesses that value local food producers, sustainability and good health, we have naturally began looking at grocers," Davis says. "Whole Foods has an immense impact and sets a great example for other food service operations in our region. We're excited to sign them on as a Carrot Gold partner."
Carrot Gold is a customizable program that lets restaurants, hospitals, colleges and corporations "start where they are" and move their operations toward their own ideal level of excellence in local food sourcing, sustainability and healthy eating.
Whole Foods has three locations in Overland Park and Olathe, Kansas, with an additional store slated to open in Kansas City, Missouri in early 2018.
About KC Healthy Kids
KC Healthy Kids rallies the people in our communities to improve access to affordable fresh food and safe places to walk and play. When our neighborhoods support healthy habits, we are less likely to suffer from obesity, which is linked to Type 2 diabetes, heart disease, and poor mental health. To make a lasting impact, we shape policies that improve our food system and physical surroundings, and, ultimately, the places where we live, work, learn, and play.