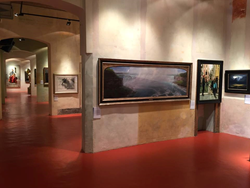 "Leading the revival of realism, this exhibition of seventy-five 21st century realist works were chosen out of 2,500 entries from around the world."
New York, NY (PRWEB) January 16, 2016
One of the largest realist art competitions in the world, the Art Renewal Center's International Salon, has announced its 2014/15 winners and finalists. This year, there were over 2,500 entries and 789 finalists in the competition. The Art Renewal Center (ARC) is one of the nation's strongest advocates for the traditional arts, and its annual ARC Salon provides a platform for realism that both echoes the glamour of the Paris salons of the 19th Century while at the same time presenting a very contemporary view of realism in our modern world.
The works of contemporary realism featured in this upcoming Salmagundi Club exhibit just returned from a show hosted at the European Museum of Modern Art (MEAM) in Barcelona, Spain. While there, the ARC Salon winners were shown alongside winners from the 2015 Figurativas competition, a prestigious European representational art competition. The combining of these two shows was a historic event for the representational art movement of Post Contemporary Art, and constituted one of the largest collaborative shows on contemporary realism in the Western world.
The Salmagundi Club, one of the oldest artist clubs in America, will show these impressive, award-winning works for three weeks from January 18 through February 4, 2016. To see a preview of the show, visit the exhibition website: http://www.artrenewal.org/articles/MEAM_exhibit.php. The show will correspond with several lectures and educational events, including a speech by ARC Chairman Frederick C. Ross and an artist meet and greet. In addition, The Da Vinci Initiative, an ARC affiliated non-profit that seeks to bring skill-based art techniques into K-12 classrooms, will be holding several educational events in January. Of particular interest is The Da Vinci Initiative artist demonstration using skill-based techniques and the special forum for high school teachers and students about the atelier training method. General admission tickets are $15.00, and the various events are an additional fee. Tickets are available at the door, or to insure availability, through the ARC website: http://www.arc-store.com/arcevents.html