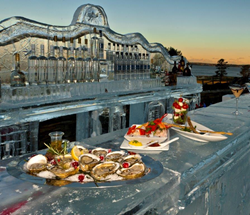 Rockport, ME/Bolton Landing, NY (PRWEB) January 14, 2016
The Sagamore Resort in Bolton Landing, NY and The Samoset Resort in mid-coast Maine will both welcome back the extremely popular Glacier Ice Bar & Lounge this January. These two outdoor bars are carved from over 18,000 pounds of ice each and both locations are set in spectacular, "winter-wonderland" type settings, overlooking the beautiful water views.
"These two scenic, waterfront locations lend themselves perfectly to the Glacier Ice Bar & Lounge concept," said Scott Luper, Northeast Regional Director of Food & Beverage for Samoset and Sagamore resorts. "There is no other ice bar in the Northeast that can compete with the amazing views and setting of these two locals. It really is a unique, must-do experience."
These beautiful ice lounges are created by talented teams of ice sculptors and designers who spend weeks carving and assembling 300-pound blocks of ice using chisels and chainsaws to create bars, seats, tables, ice luges, couches, sculptures and more. Everything in these cold sensory environments, with the exception of the toasty fire lamps and faux fur cushions, is crafted out of ice. Both bars also feature chilly, handcrafted cocktails, live music and special menus of light fare perfect for outdoor, winter dining. Both locations are open to the public and only last a short time so guests are encouraged to get there before it is reduced to only a puddle.
Glacier Ice Bar & Lounge at the Samoset returns on January 15th and remains open on weekends until January 24th.
Glacier Ice Bar & Lounge will return at the Sagamore on January 22nd and remain open on weekends until January 31st.
At both resorts, the Glacier Ice Bar & Lounge is weather permitting.
# # #
About Samoset
Nestled between cosmopolitan Rockland and the Norman Rockwell-like Camden, Maine, the AAA Four Diamond, all-season, Samoset Resort crowns a lovely 230 acre waterfront complex at the edge of Penobscot Bay.
The 182-room resort, which includes four spectacular cottages, features a state of the art health club, indoor and outdoor heated pools, hot tubs, steam saunas, tennis, basketball, disc golf, a playground and complimentary Wi-Fi access throughout the guestrooms and public spaces. Wintertime at Samoset brings the now famous Glacier Ice Bar, as well as a skating rink and Holiday Happenings all winter long. In the warmer months, the resort also features a spectacular 18-hole championship golf course, complete with an on-site PGA coordinator.
The Samoset has been a leading resort choice for over a century for visitors to the coast of Maine seeking the perfect retreat for a romantic getaway, family vacation or group outing. The resort was voted one of the Top 10 Resorts in New England in Condé Nast Traveler Readers' Choice Awards 2015. The Samoset is a member of Preferred Hotels® & Resorts.
For more information and booking, please visit http://www.samosetresort.com or call 800.341.1650.
About Sagamore
Recently named one of the Top 20 Resorts in the Northeast by Condé Nast Traveler Magazine (November 2013) The Sagamore is a full-service, all-season resort and sports paradise featuring a Donald Ross championship golf course, two pools, gourmet cuisine and much more.
Situated on a private 70-acre island on Lake George in Bolton Landing, the Sagamore has undergone numerous improvements since 2009, the most recent being the complete renovation of the Spa and Salon and all the Lodge accommodations in early 2013. Winter or summer the resort is bustling with activities both indoors and out.
The Sagamore is an official landmark listed in the National Register of Historic Places and a member of the Preferred Hotels and Resorts, Historic Hotels of America, a recipient of the AAA Four-Diamond Award and a member of American Express Fine Hotels & Resorts.
For information and reservations, call The Sagamore at (866) 385-6221 or visit http://www.thesagamore.com.