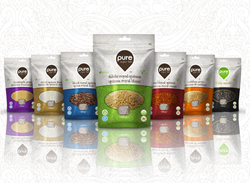 Pure Organic Foods provides consumers with a trusted and easily identifiable source of gluten-free products without sacrificing taste, to aid consumers that have celiac disease, gluten sensitivity or who are avoiding gluten for other reasons
Toronto, ON (PRWEB) January 15, 2016
The Gluten-Free Certification Program (GFCP), in partnership with the Canadian Celiac Association, is pleased to announce that Pure Organic Foods full line of gluten-free quinoa and grains have met all necessary assurances required to carry the GFCP trademark on their products. Pure Organic Foods Quinoa, Cañahua and Amaranth are delicious whole grains, prized for their nutritive value. They are also among the few grains that contain all of the essential amino acids, making them a complete protein. This premium brand that supplies the very best organic products from Bolivia can be found at Whole Foods, Sobey's, Metro and IGA stores across Canada or purchased online here.
Pure Organic Foods products are considered "Super Foods" and their health benefits are widely known in the food industry. In addition to being protein packed, iron rich, high in magnesium, full of Riboflavin, low in fat and high in antioxidants, Quinoa is also a perfect food to be enjoyed by those who suffer from Celiac disease or gluten intolerance because it is gluten-free.
"Pure Organic Foods' vision is a country where Canadians are healthier and aware of their meal intake with relation to protein and calories" says Carlos Zamorano Scott, CEO & President of Pure Organic Foods. "There are no chemicals, pesticides or heavy machinery used in the production of our Royal Quinoa and it is certified organic by Canadian standards. The production and preparation process is efficient and has very few touch points. This allows us to maintain overall product integrity giving you the best-tasting and most nutritious quinoa available in Canada."
Paul Valder, President of the Allergen Control Group Inc. (ACG), the corporation that manages the Gluten-Free Certification Program, states that "products displaying a GFCP trademark have been manufactured in a facility which successfully undergoes a robust, non-biased, annual third party audit. Intertek, a trusted provider of certification and auditing services for many of the world's leading brands and companies, completed Pure Organic Foods facility audits and verified their ability to routinely meet the stringent GFCP standard requirements for managing the production of gluten-free products. By displaying the GFCP trademark, Pure Organic Foods provides consumers with a trusted and easily identifiable source of gluten-free products without sacrificing taste, to aid consumers that have celiac disease, gluten sensitivity or who are avoiding gluten for other reasons".
An increasing number of consumers suffer from celiac disease or non-celiac gluten sensitivity. "There is no cure for people suffering from these ailments and the only remedy is to adhere to a strict gluten-free diet for life" says Sue Newell, Operations Manager of the Canadian Celiac Association (CCA). "In 2009 the CCA commissioned the development of The Gluten-Free Certification Program to both increase ease of access to gluten-free products and also help consumers make clear and informed safe, gluten-free product choices, like those offered by Pure Organic Foods".
About the Allergen Control Group Inc. (ACG)
The Allergen Control Group Inc. is a privately held corporation which owns and operates the Gluten-Free Certification Program on a global basis and is endorsed exclusively by the CCA in Canada and the NFCA in the USA. http://www.glutenfreecert.com
About the Canadian Celiac Association (CCA)
The Canadian Celiac Association is the national voice for people who are adversely affected by gluten, and is dedicated to improving diagnosis and quality of life. Based in Mississauga, Ontario with 28 Chapters across the country, its mission includes advocacy, education, research and community support. http://www.celiac.ca
About Pure Organic Foods
Founded in Waterloo, Ontario, Canada, Pure Organic Foods has been serving up the very best in organic and glutenfree products since 2011. Our focus is on making natural, GMO-free grains such as royal quinoa more accessible in communities across Canada. Pure Organic Foods is built on a fair trade policy and mutually beneficial partnerships with an eye on the future. We value not only healthy eating, but healthy living. Stay healthy. Stay strong. http://www.pureorganicfoods.ca