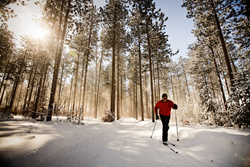 Benzie County is a year round playground for fun outdoor experiences that celebrate every season of the year. - Benzie County Visitor's Bureau
Benzonia, MIchigan (PRWEB) January 16, 2016
Benzie County has lots of snow due to a recent winter blast of cold weather, which opened up a beautiful winter playground for snowmobilers, skiers, and snowboarders. Throughout the winter, vacationers can experience Northern Michigan's beauty in Benzie County through snowmobiling, downhill and cross country skiing, snowboarding, snowshoeing and ice fishing. When the warmer temperatures start to hit in April and May golfing, biking, running, paddleboarding, fishing and other water sports become the rage in Benzie County.
For a list of lodging properties for winter, spring, summer or fall getaways to Benzie County and to learn more about seasonal activities, events, and nearby award-winning wineries and unique restaurants in the area, contact Benzie County Visitors Bureau at 1-800-882-5801 or see http://www.visitbenzie.com. Hotels, motels, inns, b&bs, and a top rated luxury resort are within minutes of beautiful natural areas to enjoy all that every season has to offer in Benzie County
Winter Highlights
Wintertime Sports and Recreation in Benzie County
Benzie County has outdoor winter recreational activities such as cross country skiing, snowshoeing and snowmobiling.
Snowmobilers can experience 135 miles of challenging and well-groomed snowmobiling trails and trailheads & staging areas are located in various spots throughout the county. Visit benziemanisteesnowbirds.com for more information. Snowmobile rentals, gear and guide services are available at Crystal Adventures in Thompsonville.
In addition, Benzie County has 22 miles along the Betsie Valley Trail for cross country skiing, as well as 30 km of groomed cross-country and snowshoeing trails at Crystal Mountain. The Sleeping Bear Dunes National Lakeshore features 70,000 acres with scenic cross-country ski and snowshoe trails, and weekend guided snowshoe tours beginning in January.
There's no better place in the Midwest than Crystal Mountain for downhill skiing and snowboarding. Crystal Mountain was awarded 2013's Visitors' Choice Award for Best Terrain in the Midwest by "OnTheSnow" the most visited ski and snowboard-related website. "OnTheSnow" awards are considered to be the most comprehensive user-generated ski resort awards in the world. The winter 2016 season includes a new downhill skiing and snowboarding complex called "The Backyard," with eight new ski trails serviced by a triple chairlift, a part of Crystal Mountain's new $11 million expansion. Crystal Mountain also features ice-skating, ice hockey, fat tire bike rentals and trails, as well as, daily children's activities. Adults will enjoy the luxurious spa services at the Leed-Certified award winning Crystal Spa and superb dining at the Thistle Pub & Grille and Wild Tomato Restaurant.
2016 Benzie County Winter / Spring Events
Learn to Ski and Snowboard Month
Crystal Mountain, Thompsonville
Though January 31
January is "Learn to Ski and Snowboard Month" at Crystal Mountain. With 58 trails open, the month long celebration in Benzie County at Crystal Mountain includes lift ticket specials, lesson specials, deals on rentals with a lesson, and top notch professional ski and snowboard instructors who will match learners personalities and learning styles through their Burton Learn to Ride Center to ensure that people get the very most out of their educational experiences.
World Snow Day Celebration
Crystal Mountain, Thompsonville
January 23
Celebrate World Snow Day at Crystal Mountain! A variety of free activities will be presented to introduce "first timers" to the great world of snow. Geared to every age, activities range from presentations on skiing and snowboarding, cross-country, and snowshoeing for adults to skiing and snowboarding, ice skating, snow bikes, scavenger hunts and snow making for kids. Call 888.968.7686 ext. 7000 for more information.
4th Annual Fat Chance Fat Tire Bike Race
Crystal Mountain, Thompsonville
January 23
The 4th Annual Fat Chance Fat Tire Bike Race tests racers on a combination of Crystal Mountain's groomed and dedicated winter fat bike course that has been designed for bike tires over 3.5″ wide, PLUS Cross-Country ski trails and the Betsie River Pathway. This is the only day designated Cross-Country trails will be open to Fat Tire Bikes. Registration happens the day of the event. Call (844) 584-2733 for more information.
Winterfest in Beulah
Beulah, Michigan
Saturday, February 13, 2016
Families will enjoy a day packed with fun, food, and other unique winter activities including a chili cook-off, snowmobile poker run, annual children's fish toss competition, children's frozen turkey bowling, a Winterfest Parade, horse drawn wagon rides and a bonfire on the beach with fireworks in the evening over majestic Crystal Lake. See VisitBenzie.com – or – call 800-882-5801
Shiver by the River
Frankfort
February 20
This popular winter event is back, with children's activities and more.
Call (231) 352-7251 for more information closer to the event.
Betsie Bay Frozen 5K
Frankfort
February 20
Experience a fun winter 5K in Northern Michigan where avid and crazy runners are willing to face 10-degree temperatures and 30 mph gusts off of Lake Michigan. All ages are welcome! The course starts at the top of Elberta's beautiful lookout over Lake Michigan, the along Betsie Bay via scenic M-22, to Main Street in Frankfort. For more information and to register see https://www.facebook.com/BetsieBayFrozen5k/.
Mardi Gras on the Mountain
Crystal Mountain, Thompsonville
Saturday, March 5
Enjoy this lighthearted event on the slopes and around the mountain. Call (844) 584-2733 for more information.
Spring Fling
Crystal Mountain, Thompsonville
Saturday, March 12
Bluebird skies, perfectly groomed slopes, great deals on lift tickets, celebration and fun traditions such as the Cardboard Classic, the Slush Cup, and On-slope Kayak Races in mid-March. That's what skiing and snowboarding at Crystal Mountain is all about - fun! Call (844) 584-2733 for more information.
Spring Break Activities at the Mountain
Crystal Mountain, Thompsonville
March 28 – April 5
Plenty of Family and Children's Activities will take place.
Call (844) 584-2733 for more information.
Spa Days at Crystal Mountain
April 1 – 30
Special events and offers will take place to indulge in select massage, body service, and facial or nail services. Crystal Spa guests also enjoy complimentary Eucalyptus steam rooms, infrared saunas, an indoor relaxation lounge, and mosaic hot tub garden as part of their spa experience. Call (844) 584-2733 for more information.
11th Annual Michigan Beer & Brat Festival
Crystal Mountain, Thompsonville
Saturday May 28, 2016
Enjoy a Memorial Day weekend tradition at Crystal Mountain at the Michigan Beer and Brat Festival. The event features live entertainment slope side while sampling over 75 of Michigan's finest microbrews, local hard cider and mead, and gourmet brats from northwest Michigan markets. Participating breweries include StormCloud, Bell's, North Peak, Founders, Shorts, Right Brain and more. Call (844) 584-2733 for more information.
3rd Annual North Mitten Half Marathon & 10k
Crystal Mountain, Thompsonville
Sunday - May 29, 2016
The North Mitten Half Marathon and 10k is a combination of paved roads, dirt roads and trails. The North Mitten route consists of primarily flat, open trails on Crystal Mountain property and will not climb the mountain. Both races will start and finish near Crystal's Clipper chairlift. This is a great spring race for beginners, as well as, experienced runners! Runners must register online (registration open after January 1, 2016) and is limited to the first 750 runners . Entry fee is non-refundable. For more information call the Park at Water's Edge, 888.968.7686, ext. 7000.
###