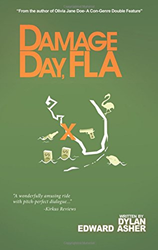 '(Dylan) Asher has a great voice for crime fiction; hopefully he'll use it frequently.'
POMPANO BEACH, Fla. –
(PRWEB) January 19, 2016 -- Dog Ear Publishing Author Dylan Asher has a way with words, and his style is paying off. Kirkus Reviews named his thriller "Damage Day, FLA," as one of its Best Books of 2015 in the Indie category. Although he's pleased by the award, it was a bit of a surprise.
"It seems the book worked, perhaps on a level beyond what I'd expected," Asher said. "I suppose I figured that since many of the characters are somewhat immature and trite, the material might appear to be also. Apparently, and thankfully, Kirkus believes it takes some smarts to effectively write dumb."
The Kirkus Reviews summary of "Damage Day, FLA," entices readers with its first sentence: "Asher ('Olivia Jane Doe,' 2013) proves he has what it takes to make an entertaining book about noble lowlifes and con games. ... The pace picks up on a wonderfully amusing ride with pitch-perfect dialogue and twists that come up too quickly to predict. Asher's chief talent is his ear for dialogue. Conversations are snappy and have the smart-alecky feel of solid crime noir."
"Personalities emerge through dialogue as well as action, and Asher's narrative wastes little time dwelling on anyone's inner monologue, save main character Kip's. The narrative is styled and sarcastic – perhaps a drawback for some readers, but it fits the tone of the book perfectly. Asher has a great voice for crime fiction; hopefully he'll use it frequently."
For Asher, receiving a Best of 2015 award from Kirkus Reviews means encouragement. "I've been 'out of the circle' for well over a decade, and even back then, while in college, I'm not sure I was ever particularly in the circle. I've spent the years since owning and running a local South Florida bar, so I haven't exactly been surrounded by literary types. For me, Kirkus has served as an answer from those 'in the circle' as to whether or not what I'm doing is actually worthwhile."
Asher claims he's not out to impress other writers and critics with an eloquent style, but admits he puts "a tremendous amount of effort into knowing my characters before they're put into a single scene, and those scenes are carefully chosen. My goal has always been to tell the 'most story' within the fewest pages. Perhaps it's the things left out, as much as the things put in, that have made these stories effective and have garnered accolades."
The aviation and creative writing Ohio State University graduate has been writing for as long as he can remember; a sixth-grade teacher told him he had talent when he wrote a play. "It was the ONLY thing I excelled at in college," Asher said. "In the years since, life has interrupted often (as it should, I suppose), but the writing always continued."
Once activity with buying and getting the bar up and running slowed down – and Asher had remarried – he was able to focus on finding his literary voice once again. "I published 'Olivia Jane Doe' in 2013 with no idea how it would be received. I think I was seeking a slapdown, although what I got was a pretty good review from Kirkus – the same Kirkus that would eventually award my second book, 'Damage Day, FLA,' with a Best Books award."
Asher's writing also has garnered recognition from editors at Dog Ear Publishing. The company gave its Award of Literary Excellence to two of his books, "Strike a Poser" and "It's a Calamity, Jane." The award, given to just nine of Dog Ear's 2015 releases, honors books that earned the company's highest marks from a highly skilled editor.
"As with his previous books, 'It's a Calamity, Jane', is an intelligent, cleverly crafted book with seriously endearing characters," wrote editor Reba Hibbert. Of "Strike a Poser," she wrote, "This was another prize from one of my favorite new authors. The writing is crisp, the plot is smooth and well-paced, and the dialogue is smart and funny. I have no idea how he comes up with these complex con games, but they're fairly brilliant."
Asher admits he keeps stories moving. "I'm trying to write for the fleeting attention span of audiences. I think it's the writer's job to make stories not only effortless, but also irresistible; not sacrifice character and story, but tell the story fast, tenaciously."
His method is working, despite his astonishment to the contrary. "I never expected to get awards for telling these stories in this year. My goal was always to hook more readers and, in turn, have the opportunity to write more books for those readers."
--------
For additional information, please visit http://www.dylanasherbooks.com
Damage Day, FLA
Dylan Asher
Dog Ear Publishing
ISBN: 978-1-4575-3249-8
172 pages
$12 US
Available at Ingram, Amazon.com, Barnes & Noble and fine bookstores everywhere.
About Dog Ear Publishing, LLC
Dog Ear Publishing offers completely customized self-publishing services for independent authors. We provide cost-effective, fast, and highly profitable services to publish and distribute independently published books. Our book publishing and distribution services reach worldwide. Dog Ear authors retain all rights and complete creative control throughout the entire self-publishing process. Dog Ear Publishing reviews services and other book marketing services are available to connect great content with interested readers. Self-publishing services are available globally at http://www.dogearpublishing.net and from our offices in Indianapolis.
Dog Ear Publishing – self-publishing that actually makes sense.