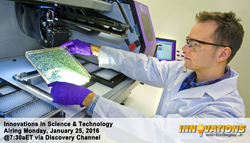 Jupiter, FL (PRWEB) January 22, 2016
DMG Productions announced today the upcoming airing of Innovations with Ed Begley, Jr., scheduled to broadcast on Monday, January 25, 2016 at 7:30aET via Discovery Channel.
Innovations will explore the Alzheimer's Drug Discovery Foundation (ADDF), which provides critical seed funding to leading scientists conducting breakthrough drug discovery and clinical research. This segment will educate viewers on how the ADDF is dedicated to increasing the chance of finding an effective treatment, and a cure, for Alzheimer's disease.
Focusing on ArcherDX's next-generation DNA sequencing assays and analysis software (which are purpose-built for detecting cancer-causing mutations and gene fusions in clinical sample types), the show goes behind the scenes to learn about ArcherDX's line of assays, which support researchers designing targeted therapies and other applications in precision medicine.
CW Botanicals is a family-owned Colorado company that provides hemp products for a variety of general wellness needs. Here, Innovations will teach audiences about CW Botanicals' Charlotte's Web products, which are made from proprietary, world-renowned hemp genetics.
Innovations traveled to Thailand to explore The Drug and Alcohol Rehab (DARA), which offers cutting edge addiction treatment in in a serene and luxurious setting. Audiences will learn how DARA works around the issues adversely affecting individuals, and about its belief that when the underlying issues are being dealt with, the desire to use drugs or alcohol will lessen.
"From science and technology to drug discovery and substance use and recovery, this episode is sure to enlighten the community on the most exciting advancements currently being explored," said Jake Meiteles Senior Producer for the series. "We look forward to educating audiences on the amazing things taking place."
About Innovations & DMG Productions:
Innovations, hosted by award winning actor Ed Begley, Jr., is an information-based series geared toward educating the public on the latest breakthroughs in all areas of society. Featuring practical solutions and important issues facing consumers and professionals alike, Innovations focuses on cutting-edge advancements in everything from health and wellness to global business, renewable energy, and more.
DMG Productions (responsible for creating the Innovations show) includes personnel specialized in various fields from agriculture to medicine, independent films to regional news and more. Our field producers work closely with experts in the field to develop stories. This powerful force enables us to consistently produce commercial-free, educational programming that both viewers and networks depend on.
For more information visit: http://www.InnovationsTelevision.com or contact Jake Meiteles: (866) 496-4065 or: jake(at)innovationstelevision(dot)com.