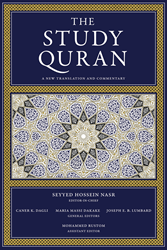 San Francisco, CA (PRWEB) January 19, 2016
The Quran, the sacred text of Islam, is the spiritual centerpiece of faith, law, politics, art, science and culture for more than 1.6 billion Muslims. It has until now remained vastly unfamiliar and inaccessible to much of the English-speaking world.
In response to the rapid rise of the Muslim population in the West, the resulting need for an English translation, and confusion about the Quran arising from earnest differences in interpretations and changing attitudes towards Islam and Muslims, HarperOne has published "THE STUDY QURAN: A New Translation and Commentary".
Ten years in the making, "The Study Quran" project was led by Dr. Seyyed Hossein Nasr, Iranian-born, Harvard-educated, world-renowned authority on Islamic thought, and four distinguished scholars, general editors Caner K. Dagli, Maria Massi Dakake, Joseph E.B. Lumbard, and assistant editor Mohammed Rustom--all raised in the West with English as their first language and trained in Western universities with a mastery of Quranic Arabic.
Less than two months since its initial publication, "The Study Quran," is already having an impact in mainstream and religious publications. Media coverage to date has cited "The Study Quran" as a "landmark"(1) and commented that it is "more than a rebuttal to terrorists,"(2) and "seeks to increase understanding."(3)
"The Study Quran" is an important and historic work that marks the first effort in the West to make available to a wide readership an in-depth exploration of the theological, metaphysical, historical, geographical and linguistic background of the Quranic revelation together with a new English translation. An uninterrupted presentation of the Quran text, "The Study Quran" is presented in rich two-color layout, and includes: an introduction to each sũrah, or chapter featuring summary of content and other background information; commentary covering the entire translation that discusses questions of rituals, theology, law, ethics, metaphysics, the spiritual life; 15 essays from scholars around the world offering insight on all aspects of the Quran; eight pages of full-color maps of geography and timeline of key historic dates lend insight on the life of the Prophet Muhammad; and a comprehensive general index to guide readers to easily locate all of the features of "The Study Quran."
"The Study Quran" is available in hardcover (9780061125867; $59.99; 2048 pages) and leather bound (9780061125881; $99.99; 2048 pages) editions. More information at: http://www.thestudyquran.com.
1. Patheos; December 31, 2015; http://www.patheos.com/blogs/anxiousbench/2015/12/the-study-quran/
2. CNN; December 4, 2015; http://www.cnn.com/2015/11/25/living/study-quran-extremism/
3. CNN; November 12, 2015; http://www.cnn.com/videos/world/2015/11/12/intv-amanpour-quran.cnn
About HarperOne
HarperOne and its lines, including HarperElixir, publish books that change lives, influence cultures, build bridges, and withstand the test of time.
Since 1977, HarperOne has striven to be the preeminent publisher of the most important books across the spectrum of religion, spirituality, health, personal growth, work/life balance, and social change literature, adding to the wealth of the world's wisdom by representing many and varied voices. HarperOne publishes primarily prescriptive and narrative non-fiction, and our authors and books are go-to authorities for readers, consumers, media, leaders, and instructors in all our categories.
About HarperCollins Publishers
HarperCollins Publishers is the second largest consumer book publisher in the world, with operations in 18 countries. With nearly two hundred years of history and more than 120 branded imprints around the world, HarperCollins publishes approximately 10,000 new books every year in 17 languages, and has a print and digital catalog of more than 200,000 titles. Writing across dozens of genres, HarperCollins authors include winners of the Nobel Prize, the Pulitzer Prize, the National Book Award, the Newbery and Caldecott Medals and the Man Booker Prize. HarperCollins, headquartered in New York, is a subsidiary of News Corp (NASDAQ: NWS, NWSA; ASX: NWS, NWSLV) and can be visited online at corporate.HC.com.